A BSc Management student at the University of Bath has become the 1,000th to receive business innovation skills training in a pioneering scheme run by SETsquared, the world-leading tech incubator.
The Intrapreneurial Knowledge Exchange Enterprise Pathway (IKEEP) was set up nearly a year ago by SETsquared, which is backed by a group of six leading universities including Bath, with an initial target of training 800 students.
The programme provides a hands-on opportunity for students across all disciplines and degree levels to become 'intrapreneurs' by improving an existing product, process or proposition within an established company. It has been described as a win-win, with both the student and business benefiting.
Students learn key skills in areas such as business models, critical thinking, effective communication and problem solving, to help them develop employability skills and business acumen through a mixture of self-led online learning and interactive live sessions.
IKEEP not only encourages students to think more innovatively about the world around them, it also provides a boost to their CVs.
Many participants also report greater self-confidence on completion and are inspired to explore their own business ventures.
Students who successfully complete the training are rewarded with a digital skills badge to display on their LinkedIn profile, showcasing their new expertise to future employers.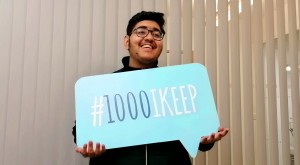 The 1,000th IKEEP student was Mohammad Ali Imran, pictured, who is studying for a BSc in Management at Bath.
Urging other students not to miss the chance to take part in the programme, he said: "What I really liked was the way it covered such a wide range of topics in a straight-forward, yet informative and interesting way. My favourite were how to be intrapreneurial and how to become a leader.
"In fact, IKEEP has influenced my career plans. I have discovered that I want to work for a company that promotes and supports innovation. I'm very glad I took part as it taught me many new skills and improved my CV."
After completing the initial training, students can progress on to complete a short project placement with a business to put their new skills in practice.
Working remotely as an interdisciplinary team of three, students provide extra resource and inject new perspectives into a business for up to four weeks on a flexible, part-time basis.
Past projects have included market or competitor research, business model analysis, and technical development and integration of new product ideas.
Joe Pearce, head of business support at the University of Exeter – which has led IKEEP for SETsquared – said: "We're thrilled to have smashed through our initial target of 800 to have delivered this programme to 1,000. This number will continue to rise significantly.
"IKEEP represents an amazing value-add to a student's time at university and will really make their CV stand out from a crowd, which is much needed in the current tough graduate jobs market.
"What makes IKEEP unique is that it's a win-win for both students and businesses. Students bring their new expertise and fresh perspectives to a business in need of extra resource to finish a project and in turn the business gives the student teams industry experience to boost their CVs that would otherwise be much harder to acquire."
The other universities in the SETsquared partnership are Bristol, Cardiff, Southampton and Surrey.
To find out more about IKEEP, visit SETsquared.co.uk/ikeepstudent
Any businesses interested in submitting a project for the IKEEP programme can find out more at SETsquared.co.uk/ikeepbusiness