The Bath office of law firm Stone King has pledged its support to the Bath Carers' Centre, a charity that offers vital help to people who care for loved-ones, as it seeks to buy a base in the city.
Kathryn Layzell of Stone King's trusts and estates team, presented a cheque for £600 to Janine Woodward-Grant of the Bath Carers' Centre. The money will go towards its fundraising appeal for a permanent base in Bath where carers can take precious time out from their caring responsibilities.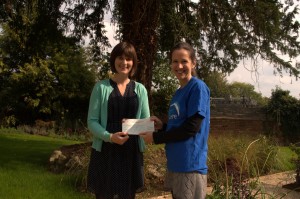 The Bath Carers' Centre offers support to people who look after a friend or family member who is frail, has a physical or mental illness, disability or problem with drugs or alcohol.
Janine, The Bath Carers' Centre's senior development manager, said: "We are delighted with the generous support that Stone King has given to help us secure a permanent place for carers in Bath.
"It's really important that carers feel they are recognised for what they do by the wider community and support from local businesses is an important part of that."
Pictured, from left: Stone King's Kathryn Layzell with Janine Woodward-Grant of the Bath Carers' Centre