Bath-based full-fibre broadband provider Truespeed has connected its 150th community organisation – for free.
The firm, launched in Bath in 2014 as a community interest company, offers a 'free broadband for life' promise to community venues or schools when it expands into an area.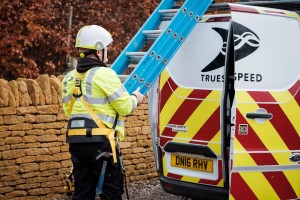 It has now connected 40 schools and 110 community hubs, giving more than 5,700 children direct access to full-fibre broadband – with the latest being St Benedict's Junior School in Glastonbury.
The policy is part of Truespeed's mission to help bridge the digital divide and ensure communities across the region have access to high-quality, reliable, ultrafast broadband.
Since its launch it has invested nearly £135m in the South West – last month it committed £6m to significantly expand its full-fibre provision across Bath, taking its total investment rollout in its home city to £11m.
The move will widen its network to make it available to 21,000 properties, including in Batheaston, Bathampton and Bathford.
Truespeed chief executive James Lowther said: "At Truespeed we believe everyone should have access to reliable, ultrafast broadband.
"When we invest in an area, by putting our infrastructure in the ground we have the opportunity to offer our service to as many people as possible, so the community can reap the rewards of better connectivity.
"By offering 'free broadband for life' for schools and community venues, we extend the benefits of ultrafast connectivity to those who may not be able to afford broadband or computing services at home.
"This then frees up budget lines for recipient schools and organisations, like St Benedict's, to reinvest that dividend elsewhere."
St Benedict's Junior School headteacher Piers Ranger said reliable connectivity was essential to the school as it utilises multiple online apps and learning platforms.
"Our previous broadband would buffer constantly and it was a struggle to upload documents, so the difference in the speed and reliability of our connection since having Truespeed is remarkable," he added.
"It's had a hugely positive impact for students and teachers, and we now have a wonderful opportunity to invest in our ICT hardware thanks to the money we're saving by Truespeed providing the service free of charge."
Truespeed, which has now passed more than 70,000 properties across the region, offers broadband packages starting from 150 Mbps and guarantees speeds as fast as 900 Mbps.
The extension of its network to Glastonbury coincided with a similar move into Street, Shepton Mallet, Wells, Portishead, Clevedon, Keynsham, Saltford, Midsomer Norton, Radstock, Peasedown and Nailsea.