A bakery chain based near Bath is to reopen its 45 branches after securing £1m in funding through the Coronavirus Business Interruption Loan Scheme (CBILS).
The Cornish Bakery, which has its headquarters at Paulton and an outlet in Abbey Churchyard in Bath, closed the doors of its bakeries to customers on March 23 and had to furlough all but seven of its 400 staff.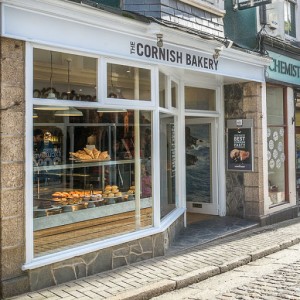 Now, thanks to the government-backed loan provided by Clydesdale Bank, it has adequate cashflow to be able to reopen to customers over the coming weeks.
The funding will also enable The Cornish Bakery to introduce new health and safety procedures, including providing staff with protective clothing – such as masks and visors – and introducing new Perspex screens around all customer counters.
The group, which relocated its head office from Falmouth, Cornwall, to Paulton last September, hopes to have all staff off furlough and back on its payroll by the end of this month.
The funding – which is enabling it to start trading from all its outlets except the one in the NEC in Birmingham – will also be able to take on more staff for the summer season.
The CBILS funding has also given The Cornish Bakery the opportunity to diversify into launching both an online mail order and click-and-collect services – essential should it ever be forced to close its physical stores again.
Founder Steve Grocutt said: "The loan provided by Clydesdale Bank will allow us to quickly reintroduce cashflow into the business to allow us to become operational again.
"The team at the bank was fully supportive in making sure we could not only work towards reopening our 45 bakeries up and down the country as quickly as was possible, but we will also be able to use this loan to future-proof the business by launching new digital revenue streams.
"Without the financial support coming to us as quickly as it did, we could be hit harder should a second peak of the virus hit the country. This funding will not only help us to survive but hopefully thrive.
"Our hopes now are to not only to return the business to normal but hopefully grow the business through these new revenue streams and in time through acquisition. We are incredibly positive about the future of the business and look forward to welcoming our staff and customers back to the bakeries."
Clydesdale Bank relationship manager Stewart Linnane added: "The Cornish Bakery was one of the first companies to approach us and have their CBILS application approved.
"Within two weeks, the business had received both the application approval and had the full amount transferred into its accounts. The Covid-19 pandemic has meant that time is of the essence. We recognise that when a business is closed doesn't mean it is not spending money and incurring costs.
"It has also presented opportunities for businesses to consider diversifying their business to protect it from future challenging marketing environments.
"Those businesses that have seen success during the pandemic to date are those with e-commerce functions. We are proud to be able to support The Cornish Bakery in helping to secure that positive future."