Bath-based beauty start-up Shakeup Cosmetics has received equity investment from a pair of established entrepreneurs as it prepares to launch a range of innovative skincare products for men.
Sally Preston, managing director of Kiddylicious, the UK's fastest-growing children's food firm, and its commercial director Neil Mather will support Shakeup's founders Jake Xu and Shane Carnell-Xu, pictured, in developing and establishing the brand in the retail market.
The deal was supported by the corporate team at Bath-headquartered law firm Royds Withy King.
Beijing-born twins Jake and Shane came to the UK at the age of 18 to study Computing and Business Management respectively at Bath College.
After graduating they worked at Bath-based Future Publishing before setting up their own creative agency Xcetra Media in 2007. Rebranded as Ready three years ago, it specialises in breakthrough promotional and tactical marketing campaigns for consumer brands, particularly within the beauty, cosmetics and skincare sectors.
It has worked with international brands such as Soap & Glory, Boots No.7, Burt's Bees, Bioré and Molton Brown.
Now with Shakeup they have set out to create their own cosmetics range designed with men's skin type, skin concerns and specific needs in mind. The launch is particularly relevant for Jake, who has suffered from the skin complaint rosacea since a teenager and has struggled to find a suitable blemish-covering product.
Shane said: "We are absolutely delighted to have secured our seed funding from two incredible entrepreneurs who have built a successful global consumer brand from the ground up.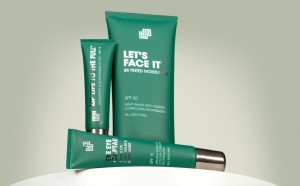 "The investment will allow us to proceed with the full production and strengthen our marketing support for Shakeup Cosmetics' imminent launch next month."
Shane and Jake said the gender divide, particularly among millennials and Gen Z's, was far more fluid than ever before.
"Cosmetics are no longer a signifier of femininity," said Jake. "Attitudes are markedly changing, usage is being normalised and men have become more knowledgeable about cosmetic products. The market for pronounced cosmetics for men is emerging."
He said Asia was leading the way in terms of male beauty, thanks to the popularity of K-Pop among other new cultural phenomena.
"Male beauty has been completely redefined in Asia over the past few years. Our Chinese heritage and connection have given us the advantage to see this rising trend first hand," he added.
"Shakeup combines proven skincare benefits with high-performance cosmetic features, to provide a solution to everyday guys who are seeking easy-to-use and highly effective cosmetic products to combat their skin challenges, and look and feel their best."
The pair said Royds Withy King corporate partner James Worrall and his team who worked on the deal had been the perfect legal partner to support them through the negotiations with the investors.
"They took a commercial and pragmatic approach while still providing invaluable advice with our best interests at heart," Shane added.
James Worrall, pictured, added: "It's exciting to have supported Jake and Shane launch their pioneering business. They've previously built a highly respected creative agency and I have no doubt that Shakeup Cosmetics will be equally successful."
"It's always enjoyable to work with entrepreneurs, who represent the bedrock of the South West economy, and we look forward to seeing Shakeup Cosmetics develop into a leading consumer brand."
Financial details of the investment have not been disclosed.