The University of Bath's car-of-the-future research centre is driving ahead with a pioneering project that could help put zero-emission hydrogen-powered aircraft into commercial use.
The Institute of Advanced Automotive Propulsion Systems (IAAPS) has teamed up with aircraft parts manufacturer GKN Aerospace to develop hydrogen technology aimed at decarbonising the aviation industry.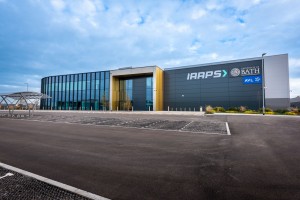 They will work together on GKN Aerospace's Bristol-based ground-breaking H2GEAR programme to pioneer a megawatt scale cryogenic electric drive system using proton-exchange membrane (PEM) fuel cells.
IAAPS, which is based on the Bristol & Bath Science Park, is a £70m motor industry global centre of excellence aiming to put the West of England at the centre of research into next-generation ultra-low emission vehicles.
It is already planning to open the South West's first manufacturing plant for sustainable green hydrogen next spring.
GKN Aerospace and IAAPS said their collaboration was not only a key step in the development of commercially viable hydrogen technologies for aviation, but also made a significant contribution towards the government's hydrogen strategy, which aims to establish a thriving low carbon hydrogen sector by 2030, driving the transition to net zero.
IAAPS will deliver key aspects of the comprehensive testing and validation programme at its centre with both green hydrogen gas production and liquid hydrogen gas storage facility.
The multi-year, multi-million-pound project will take in both component and system level testing of hybrid hydrogen and electric architecture as well as driving investment in infrastructure for the delivery of gaseous and liquid hydrogen and development of cryogenic cooling systems.
H2GEAR aims to develop a liquid hydrogen propulsion system for sub-regional aircraft that could be scaled up to larger aircraft.
IAAPS commercial director Tony Reid said: "We are thrilled to have the opportunity to support GKN Aerospace's first hydrogen propulsion system for sub-regional aircraft and to play a key part in the delivery of the next generation of innovative, sustainable powertrain technologies.
"These technologies will have far reaching impact in achieving net zero targets and reducing the global reliance on carbon, not just in aviation, but also across the wider transport industry."
GKN Aerospace VP technology Max Brown added: "Hydrogen technology is an essential component in the successful and rapid decarbonisation of the aviation industry and we are delighted to establish this strategic partnership with IAAPS.
"The collaboration will allow GKN to further develop our expertise in zero carbon propulsion technologies, using IAAPS' state-of-the-art hydrogen and propulsion research capabilities, therefore fast-tracking the validation and delivery of clean, hydrogen-powered aircraft."
The initiative is the latest in a series of projects in the South West exploring the commercial potential of hydrogen as a fuel, which can be produced by using electrolysis to split water into hydrogen and oxygen.
If renewable power is used then it is described as 'green' hydrogen – a highly sustainable, low carbon energy source.
Bringing forward zero emission technology for flight would not only cut global emissions and secure the long-term future of the aerospace sector – an industry that supports employment for around 100,000 people in the region – but also create thousands of new green jobs.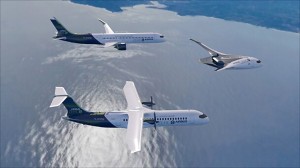 The launch of the GKN Aerospace and IAAPS project coincides with a second major initiative that could make Bristol Airport the UK's first largescale aviation hydrogen hub.
The airport is partnering with European aerospace giant Airbus – which has its main wing design plant at Filton – low-cost airline easyJet and Hynamics, part of French energy group EDF, to explore the viability of hydrogen-powered commercial aircraft.
They have joined a network of airports in Europe and Asia Pacific which are also investigating hydrogen technology with Airbus.
Earlier this year Airbus's Filton plant opened a Zero Emission Development Centre (ZEDC) to lead research into developing what the group is calling a "cost-competitive cryogenic fuel system".
The centre is supporting the group's mission to put a commercial hydrogen-powered aircraft into service by 2035.
A modified Airbus A380 ZEROe demonstrator with a hydrogen-powered engine is expected to begin test flights in 2026, pictured above.