Work on a £4m redevelopment of Bristol Airport's departure lounge has started as passenger numbers continue to approach pre-pandemic level.
The airport, which this summer claimed to have the fastest recovery of any in the UK, said the scheme would improve the pre-flight shopping and dining experience for passengers with enhanced facilities to its retail and hospitality offering.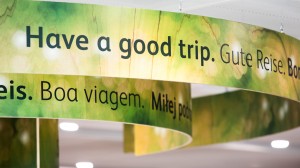 The redevelopment will include a refresh of the World Duty Free store, a new-look bar and restaurant and a new, larger Boots health and beauty store.
The airport described the new Boots unit as state-of-the-art and a significant investment by the retail and pharmacy group.
Improvements will also be made to the design of some units to provide an enhanced customer experience.
Bristol Airport head of commercial Tom Hack said the investment in the departure lounge was a "very clear sign of the confidence" from the airport's commercial and catering partners.
"With Bristol Airport seeing the fastest customer recovery of any UK airport this year, the strong demand for travel demonstrates continued customer confidence in travelling," he added.
"Our customers' departure lounge experience is an important part of the start to any holiday, and it is necessary for us to provide an exemplary environment.
"We understand that our leisure and business customers have high expectations when travelling through Bristol Airport and we will continue to strive to meet their requirements.
"We are very confident that the investment and evolution of our departure lounge will provide a greater customer experience as we offer new places to shop, eat, drink, and relax before you fly."
Work on the departure lounge has started as the airport awaits the result of a High Court appeal by campaigners seeking to overturn the planning approval for its expansion.
The scheme, which was given the green light by a planning inspector earlier this year after North Somerset Council rejected it, would increase the airport's capacity to handle 12m passengers a year – up from the 10m restriction under its previous planning permission. It would involve expanding the terminal building and increasing car parking.
The airport handled 3,686 flights on its 116 routes last month.