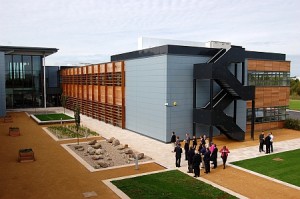 Businesses and entrepreneurs with ideas ranging from healthcare solutions, renewable energy technologies, high value manufacture and apps for more efficient business solutions will demonstrate their projects at Venturefest Bristol which is being held at at the Bristol & Bath Science Park next week on Thursday, November 3.
The event will unite entrepreneurs and innovators from across the Bristol and Bath region with investors and professional service providers. The aim is to bring together ideas and money to make things happen. Approximately 500 delegates are expected from across the Bristol city region and beyond.
The 43 exhibitors were chosen by a panel of investors, high growth business coaches and successful entrepreneurs, including the Innovation Showcase sponsors, Horatio Investments and Eden Ventures. They looked at the growth potential of the business idea, the level of innovation in the proposed product or service and crucially, investment readiness.
"The quality and quantity of applicants was high. The panel are confident that the showcase will feature exciting new business ideas which will use Venturefest to grow their businesses. Some undoubtedly have the potential to become very significant technology businesses in the future." remarked Richard Male, Plexus Technology Ventures, who chaired the selection panel.
Lorelei Hunt, director of Science City Bristol explained the motivation behind Venturefest. "Even in more difficult economic times, there are still lots of great new business ideas around, but it can seem harder to progress them, even for experienced companies," she said. "Venturefest Bristol 2011 will help to ensure that the pipeline of new business ideas, critical for future prosperity, can more easily find the funding and support they need to grow. "
The main sponsors of Venturefest Bristol 2011 are the University of Bristol, the University of Bath, HP Labs, Business West and the Bristol & Bath Science Park. Their objective is to connect businesses from a range of sectors by providing a professional and supportive environment for collaboration.
Delegate registration is open at: http://tinyurl.com/vfbreg while a full list of innovation showcase winners can be found at: http://www.sciencecitybristol.com/pages/31-innovation-showcase