Bath-based international development charity Send a Cow is to receive a boost from actress Jane Horrocks, who is to present a national radio appeal on its behalf.
The Lancashire-born star, best known for her roles as Bubble in the BBC sitcom Absolutely Fabulous, is a long-standing supporter of the charity, which works with families in some of the poorest parts of rural Africa.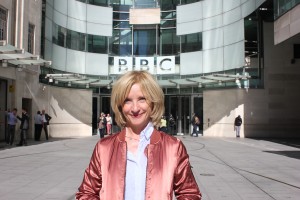 During the three-minute appeal on BBC Radio 4, Jane will share the story of Domothile, a mother living in the small, east African country of Burundi, where more than half of children under five are stunted due to malnutrition.
Jane, who also stared in the film Little Voice, said: "As a mother and provider, it's wonderful to think that you're helping another mother somewhere in the world.
"But not just with an impersonal monetary gift; a gift to help them stand on their own two feet and grow their own food and farm their own land, in a way that makes total sense. That's why I support Send a Cow…"
The appeal will be broadcast on Radio 4 on Sunday February 17 at 7:55am. Listeners will then have one week to make a donation. The appeal will be repeated at 9:26pm on the same day and on Thursday February 21 at 3:27pm.
Send a Cow was founded in 1988 by a group of West Country dairy farmers who literally flew dairy cows from the UK to Uganda.
Today it operates in six African countries – Burundi, Ethiopia, Kenya, Rwanda, Uganda and Zambia – working with families for up to five years by providing training in sustainable farming, business skills and gender equality alongside the provision of tools, seeds and livestock.

While it no longer puts cows on planes, it still focuses on giving families the skills and confidence to grow their own food and earn an income. After working with Send a Cow, 97% of farmers believe they can provide enough food and income for their families' needs from their farms.
By selling surplus farm produce, families' income often increases six-fold. More than two thirds of the people Send a Cow supports are women.
For more information, visit www.sendacow.org