The transformation of a former 1960s council office building into high-end apartments has been shortlisted for a second prestigious property award in as many months.
Riverside View, pictured, in Keynsham had been derelict for three years when Bath & North East Somerset Council's specialist housebuilding company Aequus took possession following the relocation of council staff.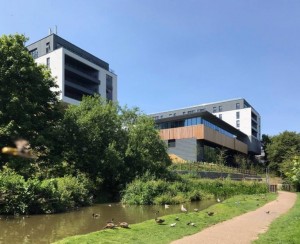 The firm created 95 high-end, spacious and affordable contemporary studios and one and two-bedroom apartments – all of which have now been sold.
Last month the scheme, Aequus' first, was shortlisted in the housing category of the annual LGC Awards run by the Local Government Chronicle.
The project is also now among 34 in the running for the 10 categories that make up regional law firm Michelmores' Property Awards.
The awards, now in their 19th year, have become a fixture of the South West business calendar by celebrating the best projects from the region's real estate and construction sectors during the previous 12 months.
Among last year's winners was Bath Spa University's Locksbrook Campus, which was originally designed in 1976 by renowned British architect Sir Nicholas Grimshaw for US furniture manufacturer Herman Miller. It triumphed in the Heritage Project category.
Riverside View has been shortlisted in the Residential Project of the Year (36 units and over) category.
Judge described the project as "an enlightened approach to regeneration" with one judge adding: "It's very clever. What impressed me most is that the windows that were only half height were extended down to give great views. I'm staggered by how well it has turned out!"
Michelmores partner and head of its real estate team Emma Honey said: "We continue to live in uncertain times and like many others, the construction, property and real estate sectors are navigating a series of on-going and unique challenges.
"The submissions for the awards this year underline the resilience and adaptability of those working in the region and looking ahead there is much to be excited about."
The winners will be announced at a gala dinner staged by Michelmores, which has offices in Exeter, Bristol and London, on November 4.