More than £1m has been pledged by businesses and organisations across the West of England from their unused apprenticeship levy funds to help people in the region develop new skills.
The funds have gone to the Share to Support scheme, which was launched earlier this year to create vital apprenticeships for individuals and boost the skills of the region's workforce at a crucial time for the economy.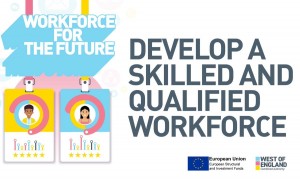 The two most recent organisations to commit to the scheme is NHS Bristol, North Somerset & South Gloucestershire CCG (Clinical Commissioning Group) – which pledged a share of its £700,000 levy pot to support small to medium-sized enterprises (SMEs) in their supply chain, surgeries, social care SMEs and disadvantaged areas in the region – and the University of Bristol.
The university's £160,000 will be used for apprentices to help the region's economic recovery by supporting inclusive recruitment, green businesses and companies involved in academic research.
The two made their pledges at a recent Workforce for the Future online event staged by Business West and the Western Training Provider Network (WTPN), the not-for-profit membership organisation that connects education, business, skills and training.
WTPN and the West of England Combined Authority (WECA) started Share to Support in the spring as part of WECA's Workforce for the Future Programme to help smaller businesses recover through funding new apprenticeships.
A number of large employers had already backed Share to Support, including GKN Aerospace, Bath & North East Somerset Council, Bristol City Council and Southern Co-op, the regional, independent co-operative.
Following the new pledges from the CCG and University of Bristol, more than £1m is now available to support training costs for small businesses to take on new apprentices or develop the skills and prospects of existing members of staff through apprenticeship training.
WTPN director Alex Richards said: "The generosity of two important regional levy-paying employers will make a huge difference.
"In essence, we are decentralising a proportion of apprenticeship funding and providing our local economy with much needed funds to support people and small businesses to recover and prosper. "The Share to Support scheme is supporting businesses to meet skills needs, build capacity, capabilities, and develop employment pathways.
"These levy pledges will be the beginning of real human stories of personal development and transformation."
Metro Mayor Dan Norris, who leads WECA, added: "Thanks a million to all those who are making sure we keep this apprentice cash local.
"What a great collective effort to boost apprenticeship opportunities to equip people with skills they will need in our changing workplaces."
University of Bristol deputy vice-chancellor and provost, Prof Judith Squires, said: "We are proud to be pledging up to 10% of our apprenticeship levy to support organisations that would not usually be able to access the levy to create new apprentice roles or upskill existing employees.
"We hope that this apprenticeship levy will be used to improve social mobility, helping economic recovery by reducing employment skills gaps and supporting inclusive recruitment – particularly prioritising communities that experience high levels of employment deprivation."
NHS Bristol, North Somerset & South Gloucestershire CCG chair Dr Jonathan Hayes said the initiative would benefit both local jobseekers and the small and medium-sized enterprises that employed so many people in the region.
"Apprenticeships are a great way to grow local talent as well as bringing new skills, experience and perspectives into organisations," he added.
Nationally, it is estimated that between £4m and £8m of unused levy funds are returned to the Treasury each year.
With 700-plus apprenticeships now available, small businesses across the West of England are already using the scheme to both grow and upskill their teams through apprenticeships.
The scheme is open to small businesses based in the West of England and also supports businesses looking to progress their trainees or kick-starts onto an apprenticeship.
It is part of the Workforce for the Future Programme – an £8m programme co-funded by WECA and the European Social Fund that is working with small and medium-sized enterprises to help them develop their future workforce, meeting their current and future needs.
Employers can pledge their unspent apprenticeship levy or find out how to get support with apprenticeships by visiting www.wtpn.org.uk/apprenticeship-levy-transfer