Creating sustainable, well-designed and inspiring school buildings has earned an architecture firm a major industry accolade.
Frome-based NVB Architects won the Education category at the annual Building Design Architect of the Year Awards, topping a shortlist of eight firms.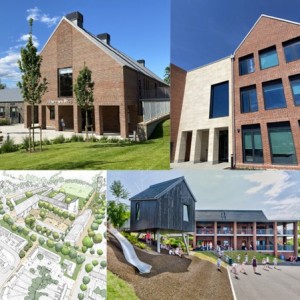 The hotly contested title, which celebrates the very best UK architecture in the education sector, comes hot on the heels of NVB's shortlisting in the RIBA (Royal Institute of British Architects) Regional Awards.
That was for the consultancy's work on Wootton Bassett Infants' School in Wiltshire, which was also included in the submission for the Building Design award along with its designs for Aldenham Prep School and Haberdashers' Boys' School Academic Hub, both in Hertfordshire, and a research project on combining schools with senior living accommodation.
NVB directors Andrew Simpson and James McGillivray attended the awards evening on behalf of NVB to collect the trophy, which they said was not only testament to the firm's team, but also its fantastic clients who have had faith in our abilities over the years".
NVB Architects focuses on combining architecture and landscape to create holistically designed spaces for learning across the UK.
James McGillivray added: "It is wonderful to receive this recognition for our work. It is testament to the talented NVB team and the depth of understanding of schools that they have acquired over many years.
"We are particularly proud that this recognises a consistent portfolio of work rather than a one-off.
"Creating inspiring, vibrant and healthy school environments is what brings us to work each morning."