The US Defense Logistics Agency has awarded a five-year contract worth up to $204m (£150m) to defence manufacturing group Avon Protection for its second-generation Advanced Combat Helmet.
The contract includes a one-year base period with a maximum value of $46m, plus four further one-year extension options.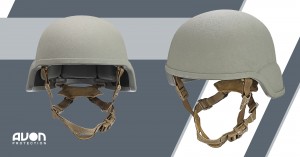 Melksham-based Avon, which specialises in protective gear, masks and breathing equipment for the military and first-responder markets, said initial revenues were expected in its 2024 financial year, following completion of first article testing in 2023.
The helmet, pictured, uses shell moulding developed by Avon US subsidiary Ceradyne, the former 3M ballistic protection business which Avon bought in 2020, with liner and retention system technologies developed by Team Wendy, the Cleveland, Ohio-based head protection systems firm acquired by Avon earlier the same year.
The latest contract follows Avon's success last September in clinching a $87.6m two-year deal to develop and supply the US Army with its next-generation combat helmet.
Avon Protection chief executive officer Paul McDonald said: "This is another significant, multi-year helmet contract for Avon Protection, following the award for the US Army next-generation Integrated Head Protection System.
"By combining Ceradyne's helmet shell moulding capabilities and Team technologies, we have further enhanced our leadership position in helmet technology and broadened our portfolio, increasing our competitiveness in mid-specification ballistic helmets.
"This contract helps underpin the medium-term outlook and visibility for Avon Protection and reflects the strength of our offering to both military and first responder customers globally."
Avon Protection, which changed its name last year from Avon Rubber, is looking to bounce back from a tough 12 months during which its shares lost around 70% of their value as it struggled to overcome damaging delays in military orders from the US.
It also announced the wind-down and closure of its body armour business after it failed tests for the US military.
The group employs more than 1,000 people in seven locations.