Bath's Christmas Market, now in its 17th year, has been hailed as the UK's best outdoor event and a benchmark for other cities' festive markets.
The accolade has come from the National Outdoor Events Association (NOEA), the UK's leading exterior events trade body. Its annual awards champion the best in the industry.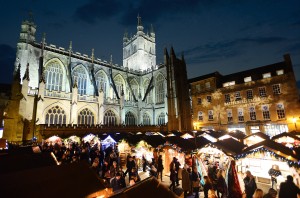 Judges praised Bath Christmas Market, pictured, one of the largest shopping events in the South West, as the "best of Bath, well produced and internationally attractive, setting standards for other Christmas markets".
This year's market, which closes on December 10, is on course to be the biggest and best yet with more than 200 decorated wooden chalets lining the streets in the city centre selling a wide range of gifts and artisan products – more than 80% of them from Bath and the South West.
Unlike many Christmas markets around the country, Bath Christmas Market has strict selection criteria to ensure that products have a real provenance and connection with the region.
Almost all the products are also either handmade by the chalet holder, handmade in Britain or handmade abroad with Fairtrade certificates.
David James, chief executive of Visit Bath – the organisation who brings the Christmas Market to Bath – said winning the award was an outstanding achievement which recognised it as the best in the UK.
"Bath Christmas Market is a magical event which brings vibrancy to the city in the run up to Christmas. The team at Visit Bath work tirelessly to ensure the success of the event every year, so it is fantastic to see their hard word rewarded with national recognition," he said.
The NOEA annual awards ceremony this year took place in Bath – at the Roman Baths and Pump Room. Bath Christmas Market was up against strong competition from Culture Liverpool, Henley Festival and Swansea Council.
Pictured: The NOEA award winners celebrate in the Roman Baths