Bath-based financial services firm Novia has played a key role in helping Bath City FC achieve it goal of setting up a new women's team.
The firm, a long-running backer of Bath Rugby, has agreed to be the founding sponsor of the team, which will wear the club's famous black-and-white striped kit and play its home games at Twerton Park.
Novia CEO Patrick Mill said: "I'm delighted that Novia are partnering with Bath City for this important milestone in the club's history.
"The club does incredible work to support the local community and it's fantastic to be joining them as the club evolves and extends its ambitions to include women's football."

Novia platform support engineer Tara Taylor, pictured, who featured in the launch of the women's team at Twerton Park, added: "I've played in local football teams for more than 20 years, so I'm thrilled that we're going to have a Bath City Women's team and I'm proud that Novia are helping to make it happen.
"It's inspiring that Bath City want to make the women's team equal to the men's as from experience I've seen that's not always the case.
"I can't wait for the first match and everyone at Novia will be following the team's progress closely, cheering them all the way."
It is not the first time Bath City has had a women's team. In 1921 Bath Ladies FC played in front of a crowd of 31,000 at Old Trafford at a time when women's football was extremely popular due to the men's game had been stopped by the First World War.
Bath City FC chair Nick Blofeld said: "As a community-owned club with a commitment to inclusion, we've wanted to get a women's side up and running for a number of seasons.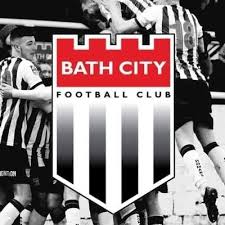 "Thanks to Novia, we now have the resources in place to launch our women's team in a sustainable and hopefully successful way.
"We are ambitious for the team and want to provide the best support for them both on and off the pitch. Playing home games at Twerton Park is a clear demonstration of our 'one club, two teams' approach whereby our women's team is treated equally with our men's."
Women's team lead Jane Jones said Bath City had a "long and proud" history of women's football and now with it on the rise – including the women's Euros in England this summer – it was a perfect time to revive that tradition and launch its new women's team.
"The club is fully behind us and, in addition to all the performance support the team will get, we will make sure that they are fully promoted too, with dedicated social media channels and on our website," she added.
"We hope that playing for Bath City Women will be appealing to local players and we hope that our club can help grow the women's game in our local area."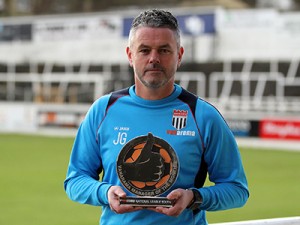 Jerry Gill, pictured, manager of Bath City FC men's team – which plays in the National League South and last season had its biggest average crowd since 1978 – described the move as an exciting moment in the club's history.
"I look forward to working with the women's team's head coach to ensure the Bath City Way is reflected across both our teams.
"Pulling on the black-and-white stripes is a proud moment for any player and we look forward to supporting the women when the team is established."
Bath MP Wera Hobhouse congratulated the club on the launch and promised her support.
"It's wonderful news and I wish the new women's team all the best. I will be down to cheer them on whenever possible," she said.
The team, which will play in the Somerset County League, will now recruit a head coach and will stage a recruitment day at Twerton Park on 10 July for anyone interested in playing for Bath City Women.
For further information visit www.bathcityfc.com/bathcitywomen or email bathcitywomen@bathcityfootballclub.co.uk
Novia was launched in 2008 by its former chief executive Bill Vasilieff, who built it up to become one of the UK's leading wealth management platforms capable of competing against the giants of the financial services industry.
Its formal partnership with Bath Rugby – which has made it a recognisible brand in the city – started in 2011, with its shirt sponsorship continuing until 2014.
Its branding has since been used on the team's training kit along with naming rights on the Novia Stand (South Stand) at The Rec and matchday hospitality. It also struck a deal to sponsor the laptops used by the club's coaches and analysts.
It was acquired by international private equity firm AnaCap Financial a year ago.
Pictured, top: Novia platform support engineer Tara Taylor in the Twerton Park changing room. Below, from left: Bath City FC general manager Carole Banwell, Novia platform support engineer Tara Taylor, and Jane Jones, women's team lead, Bath City FC. Photos: James Allen