A 250% increase in online sales last year has earned Bath craft brewery Electric Bear Brewing a coveted award based on votes by satisfied customers.
The Brassmill Lane brewery, whose brands include Zorbing pale ale and Mixtape lager, collected the Feefo Gold Trusted after making and distributing 120,000 cans of beer during what has been the most challenging trading conditions for the industry.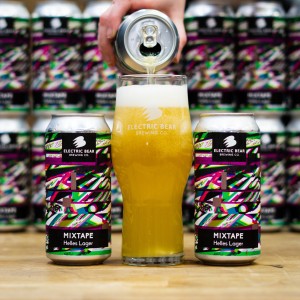 The coveted award is an independent seal of excellence that recognises businesses that deliver exceptional experiences as rated by its customers.
It is awarded only to businesses that collect genuine reviews and insights. Reviews and customer insights technology company Feefo enables businesses to collect purchase-verified reviews and insights.
It works with more than 3,500 clients, including Next, Vauxhall, Iceland and Mazda, who rely on it to supply smart insights that transform their ability to market, sell and build more rewarding relationships with customers.
Electric Bear, which was founded in 2015, describes itself as a fiercely independent craft brewery with a product range spanning easy-drinking pale ales, hoppy IPAs, high-strength stouts and inspiring sours.
Head brewer Ian Morris said: "We're very excited to receive this award because it's based on the feedback of real customers, who are the most important judges of our beer and customer service.
"The award also recognises how hard we work to give all our customers the best possible experience, even in a year as tough as 2020. We're all committed to the highest quality of service, so it's important for us to listen, understand and respond to all our customers."
Feefo's latest Gold Trusted Service awards have gone to businesses that collected at least 50 reviews last year, with a Feefo service rating of 4.5 and above.
The criteria have been adjusted to avoid penalising businesses suffering unduly from the effects of the coronavirus pandemic.
Organisations that won a Gold Trusted Service award in 2019 but struggled to achieve the required number of reviews last year, have been assessed on an average rating over the 24-month period covering 2020 and 2019.
Feefo director of customer success Steph Heasman added: "The Trusted Service award has always been about recognising companies that go way beyond the norm in customer experience and generate great feedback from happy customers.
"This year, despite the incredible challenges of a global pandemic, so many companies using Feefo have continued to provide remarkably high levels of service and they deserve a huge amount of credit for what they have achieved.
"It's why we have changed our criteria to be fair to the organisations that have struggled in such difficult circumstances."
Electric Bear takes its name from the old Bear Brewery that used to stand on the corner of the Wellsway, next to the Bear Inn in Bear Flat, with the 'electric' part of the name coming from how it powers its brewhouse kettle – the 'copper' vessel it uses during the brewing process.