Electric Bear Brewing Company, Bath's only craft brewery, is to launch a special beer to mark the Queen's Platinum Jubilee that will also raise funds for a tree-planting scheme linked to the celebrations.
The brewery will donate 30p from the sale of each can of the Treetops English Pale Ale to the Queen's Green Canopy campaign.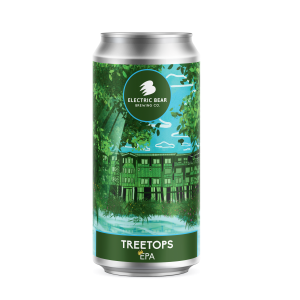 This will help fund tree packs for individuals and communities to plant in deprived urban areas across the UK for the benefit of people, wildlife and the environment.
Electric Bear's support means that for every 33 cans of Treetops sold a native British tree will be planted that will not only benefit wildlife, but also provide cleaner air, reduce pollution levels, help mitigate the effects of climate change and create new green spaces for the benefit of future generations.
The 4.1% ABV beer, which only includes English hops, will be available for Jubilee events and street parties from next Thursday, 19 May, and is now available to pre-order.
It is named after the hotel in Kenya where the Queen, then Princess Elizabeth, was staying in 1952 when she acceded to the throne on the death of her father King George VI.
An image of the hotel is included in the can's design, pictured,
Electric Bear head brewer Ian Morris said: "Climate change is a huge and complex issue and as individuals we can feel helpless, however, we can all help by planting trees, and what could be a more enjoyable way of saving the planet than drinking delicious, chilled cans of Treetops."
Electric Bear, based on Brassmill Lane, was launched in 2015 by former home-brewer Chris Lewis, who named it after the 19th century Bear Brewery in Bear Flat.
At the end of last year it was acquired by David Horner, managing director of Bath-based asset management firm Chelverton, his wife Mary and their family, who have lived and worked in Bath for more than 20 years.
David Horner said: "We are delighted that our Treetops Jubilee beer will be supporting the Queen's Green Canopy Fund to plant thousands of trees in urban areas across the UK, especially as Bath has been awarded Green Canopy Champion City Status.
"Our wonderful brewing team has created the delicious all-English Pale Ale as part of our mission to become more sustainable and we hope it will be enjoyed at Jubilee events, street parties and celebrations across the West Country and beyond."
Cans of Jubilee Treetops can be bought from the brewery shop on Brassmill Lane from Monday to Friday or from Electric Bear's popular taproom events from Thursdays to Sundays, which also feature regular street-food and music.
To have the beer delivered or for trade keg orders, visit the online shop at www.electricbearbrewing.com