The founder of a Bath-based landscape architecture practice responsible for the design of Singapore's world-renowned Gardens by the Bay has revisited it to attend its 10th anniversary celebrations.
Grant Associates director Andrew Grant RDI, who led on the design of the iconic project, joined the President of the Republic of Singapore and government ministers at the event.
The Gardens by the Bay, which span 101 hectares (250 acres) in central Singapore, were originally conceived in 2005 to improve the quality of life in the city-state by enhancing greenery and flora.
The project has since become a national icon, boasting the largest glass greenhouse in the world, while its Supertrees, 18 tree-like structures, pictured, dominate the landscape with heights of up to 50m.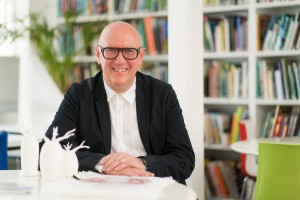 The anniversary celebrations started with the unveiling of a specially commissioned stainless steel sculpture by with elements symbolic of the Gardens followed by the commemorative planting of yellow raintrees by President Halimah Yacob and Deputy Prime Minister Lawrence Wong.
Yellow raintrees are rare variants of the common raintree as only one in every thousand seeds sown will grow.
Not only was a yellow raintree planted during the ground-breaking ceremony of Gardens by the Bay in 2007, it has become symbolic of how the Gardens has evolved into a unique entity in its own right.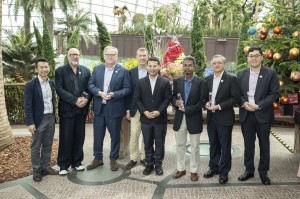 The event ended with the launch of Seasons of Bloom, the finale floral display of 2022 that celebrates the year-end yuletide season and pays tribute to the different seasons of flowers from around the world that Gardens by the Bay has brought to Singaporeans over the years.
Andrew Grant, pictured above and right with the design team at the anniversatry celebrations, said: "To be here now, celebrating 10 years of Gardens by the Bay, is truly remarkable.
"When we first won the competition for this project back in 2006, we never could've imagined the huge impact that it would ultimately have.
"Gardens by the Bay has welcomed more than 87m visitors from all over the world since 2012 and is home to 1.5m plants and an abundance of wildlife and insects, drawn to its rich biodiversity.
"Its success demonstrates the positive influence that landscape architecture can have when an intentional, nature-first design outlook is taken."
Grant Associates, which also has an office in Singapore, has worked on major projects in the Far East, Australia and the UK, including supporting Bath's Forest of Imagination community arts event. It also won the Best Show Garden at last year's Chelsea Flower Show.