Two Bath consultancies are helping create a 'green vision' for one of Europe's largest distribution parks with a clear focus on biodiversity and ecology.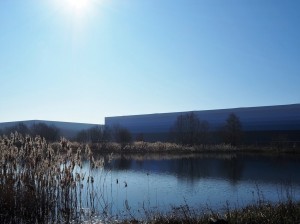 International landscape design practice Grant Associates and environmental consultants Nicholas Pearson Associates are involved in the landscape design of the expanded 550-acre Magna Park in Leicestershire site, which will also feature habitat enhancement and closer integration and accessibility to the wider community.
Grant Associates, which is recognised for designing major eye-catching architectural schemes across the globe, has played a central role in Magna Park's development since 2014, supporting developer GLP's aspiration for a high-quality, sustainable site.
Nicholas Pearson Associates has overseen the landscape and virtual impact assessment for the site.
According to GLP, Magna Park's latest phase will provide a "strong fusion of interwoven infrastructure, landscape, ecology and community facilities, designed to enhance the first phase of planting and large wetland areas that are already starting to become established".
It said its vision was to create a "truly green logistics park" with spaces for wildlife, people, agriculture, innovation, education, recreation and play spaces – as well as open spaces for people to engage with the wider countryside and become immersed in nature.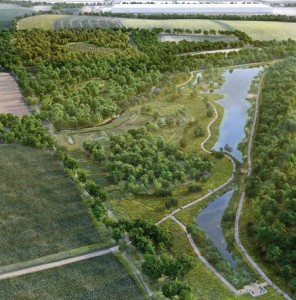 Grant Associates and Nicholas Pearson Associates are working alongside national architecture firms Chetwoods and Stephen George + Partners on Magna North and Magna South respectively.
So far more than 1m sq metres of total habitat have been created at the Magna Park site, including 619,540 sq m of woodland area and 266,000 sq m of wildflower meadow area.
More than half a million hedging plants, shrubs and transplants have been planted, alongside 138,000 wetland, marginal and aquatic plants.
Grant Associates director Peter Chmiel said: "The landscape vision and landscape led masterplan for Magna Park is shaped by the principles of a holistic and integrated strategy for the provision of green infrastructure, habitat creation and the sensitive integration of the proposed development in its surroundings.
"Magna Park continues to set new standards for logistics parks, particularly in terms of environmental land management and stewardship, holistic design, occupier efficiency and job creation.
"This is a rare opportunity to provide a critical mass to biodiversity species and a highly focused approach has really enriched the site through gainings in true greenery, with significant percentages of the site being dedicated to species rich wetlands, meadows and reafforestation."
Last month Grant Associates announced it is to work on a project in Melbourne, Australia, which will include the world's tallest vertical garden. It is currently working on the Watermans Cove scheme in Sydney, which is transforming a former industrial wasteland into a world-class, vibrant waterfront area.
The firm previously worked on Singapore's Gardens by the Bay scheme which, since completion in 2012, has become a global phenomenon attracting more than 12m visitors a year to experience its unique indoor and outdoor horticultural attractions.