Oscar-winning cinematographer Roger Deakins CBE, who has worked on major movies such as The Big Lebowski and The Shawshank Redemption, has been awarded an Honorary Doctorate of Letters from Bath Spa University in recognition of his significant contribution to film and TV.
Born and raised in Devon, Roger, 70, studied at Bath College of Art (now Bath Spa University) in the early 1970s, having intended to become a painter.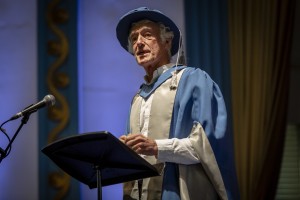 He went on to study at the National Film School and, after graduating, shot a number of documentaries and rock videos before moving into feature films in the UK, including working on 1984 and Sid and Nancy.
His first film in America as cinematographer was Mountains of the Moon in 1990. He received his first major award from the American Society of Cinematographers for his outstanding achievement in cinematography for The Shawshank Redemption.
He is best known for his work with acclaimed director and producer pair the Coen Brothers – he has worked on all their movies since 1991's Barton Fink, including Fargo, The Big Lebowski, No Country for Old Men and Oh Brother, Where Art Thou?
He has also worked with British director San Mendes, including on his Bond movie Skyfall, and he also enjoys being a visual consultant on animated films including Wall•E, Rango and How to Train Your Dragon.
He has been awarded Lifetime Achievement Awards from the British Society of Cinematographers and the National Board of Review and, in 2013, became the first and only cinematographer to have been awarded the CBE.
Last year he won an Oscar for best cinematographer for his work on Blade Runner 2049.
Roger was presented with his Honorary Doctorate by Bath Spa vice-chancellor Prof Susan Rigby a day after he took part in an exclusive question-and-answer session with Bath Spa film and TV students during which he talked about turning his passion for film and photography into a profession.
Speaking about his award, he said: "I am incredibly honoured to have been awarded an Honorary Doctorate from Bath Spa University. Meeting students and seeing their commitment to pursuing their passions is inspiring, reminding me of where it all began for me. To be a part of Bath Spa University's creative and innovative community is a great privilege."
The university is one of the UK's leading centres for creative studies, offering a wide range of courses across the arts, sciences, education, social sciences and business to 8,000 students.