A landmark student accommodation building has been sold by Bath Spa University to a property investment fund owned by insurance giant Aviva as the market for student flats in the city shows no sign of slowing.
Green Park House, pictured, opposite Green Park station, has 461 accommodation units over six floors and is let to students from the University of Bath.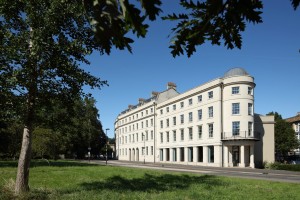 The purpose-built scheme, which replaced the derelict former Green Park residential care home on the high-profile site, has been bought by Aviva on behalf of its Lime Property Fund. Financial details of the same have not disclosed.
Lime Property Fund already owns more than 400 student units in Bath, which are let to the University of Bath, following its £21.5m acquisition in 2007 of four buildings in the city from specialist accommodation firm Unite.
As part of the latest transaction, Lime Property Fund has simultaneously entered into a 27-year lease agreement with the University of Bath, which included annual CPI (consumer price index) rent reviews, collared and capped at 0% and 6% respectively.
Aviva also said Green Park House's EPC-B rating, with rooftop-based solar PV panelling, rainwater harvesting and no direct reliance on fossil fuels, was in keeping with its commitment to achieving net zero across its property portfolio by 2040 while aligning with the University of Bath's pledge to reach net zero carbon by 2040.
Investment into Bath's student accommodation market has remained strong over recent years as funds have built up their portfolios in the city, especially in areas such as Lower Bristol Road. The city has around 2.800 students – roughly a third of them from overseas.
Aviva Investors fund manager Kris McPhail said: "Long income has experienced relatively low volatility despite market stresses as a result of the pandemic, offering a gilt-like cashflows with the added benefit of being linked to inflation.
"With inflationary pressure continuing to rise, the case for the asset class is a compelling one, particularly if coupled with strong counterparty credit. As a well-established, top-10 UK university, we believe the University of Bath offers exactly this.
"The tailored and bespoke deal on Green Park House will provide affordable accommodation for students, and at a much lower rate than would be possible through direct letting.
"We believe this deal has good social and environmental credentials, but will also deliver strong value and performance for our clients, who value inflation-linked cashflows that can offer a healthy margin over gilts."
Launched in 2004, the Lime Property Fund has more than £3bn of assets under management and targets cross-sector property investments around the UK that can provide inflation-linked or fixed rental uplifts, let to tenants on leases of over 15 years.