The founder of fast-growing Bath eyewear design house Inspecs sees a bright future for the business as it prepares for the start of trading in its shares on the London Stock Exchange next week.
Former bond trader Robin Totterman set up the business in 1988 after he failed to find a pair of glasses he liked.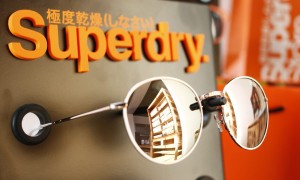 It has since grown rapidly, making underlying profits of £6.2m on sales of £45m last year with a distribution network covering more than 80 countries and reaching around 30,000 points of sale.
As reported by Bath Business News last week, the firm conditionally raised £23.5m from the sale of 48.2m shares ahead of listing on the Stock Exchange's junior Alternative Investment Market (AIM). Trading in the shares are expected to start next Thursday.
The proceeds will be used primarily to fund the group's acquisition strategy and invest further in the business, including stepping up its manufacturing output. Inspecs, whose chairman is former Tesco boss and City grandee Lord MacLaurin, produces 8m frames annually from six factories.
Mr Totterman described last week's events as "a truly exciting moment for Inspecs".
He said the IPO (initial public offering) meant the firm was now embarking on the next stage of its growth journey "in order to capitalise on the significant market opportunity that exists in the globally expanding eyewear industry".
He added: "We are delighted to have received a positive reception from a high-quality set of investors, all of whom recognise the strong track record, differentiated proposition and competitive strengths of the business, being one of only a few companies providing a one-stop-shop to global retail chains.
"This IPO will enable the business to fuel its growth ambitions both organically and through acquisitions, as we leverage our key strengths and competitive advantages to continue to take market share and drive shareholder value. We are looking forward to our future as a listed company and the opportunities this will bring for everyone involved with Inspecs."
Through the IPO the firm placed 48,222,788 ordinary shares at 195p each, made up of 12,051,282 new ordinary shares and 36,171,506 existing ordinary shares, with institutional and other investors.
The move has conditionally raised around £94m – some £23.5m of which will be used by the company to continue to grow organically, make further acquisitions and extend its manufacturing capacity.
The firm, based in Bath's old Gas Light and Coke building on Upper Bristol Road, is expected to have a market value of around £138m when trading in its shares starts. Mr Totterman has retained an interest of 26.7% of the issued ordinary shares in the business. Around 52.2% of the ordinary shares will be held in public hands following the listing.
Inspecs produces a broad range of predominantly mid-market and entry-level priced frames for spectacles, sunglasses and safety glasses.
These are either branded – made under licence or under the group's own brands – or for OEMs (original equipment manufacturers) including private label on for retail customers and un-branded.
As one of only a few companies that can offer this one-stop shop solution to global retail chains, the firm's directors believe Inspecs is well positioned to continue to take market share in the globally expanding eyewear market.
It has operations across the globe, with its headquarters in Bath, other offices in Portugal, Scandinavia, the US and China (Hong Kong, Macau and Shenzhen), and factories in Vietnam, China, London and Italy.
In 1998 it signed its first licence agreement with French Connection, designing and distributing French Connection and FCUK branded eyewear frames. Today it designs and distributes products for Superdry, Hype, Farah, O'Neill, Radley and Caterpillar.
It began its own manufacturing in 2017 following the acquisition of the Killine Group, a designer, manufacturer and distributor of OEM eyewear frames.
Today it has strong relationships with many of the leading global retail chains and distributors including Specsavers, National Vision, Grand Vision (which includes Vision Express in the UK), Vistan Brillen, Boots, TK Maxx, Costco Canada, World Duty Free and Sam's Club.
The firm believes it can grow further in a global eyewear market worth more than $131bn and expected to expand at an annual rate of around 7% until at least 2025.
It says that out of a total global population of 7.7bn people, around 4.5bn are likely to require vision correction – yet fewer than half have done anything about it.
An aging population in many developed nations will also drive demand for spectacles while improved prosperity in emerging market is leading to increased consumption of fashionable eyewear.