UK tech industry figure Jim McKenna, who has helmed a number of Bath-based software firms, has been elected chair of the SS Great Britain Trust, the organisation that owns Brunel's iconic ship on Bristol's Harbourside.
His appointment at the charitable trust's AGM comes three months after it opened the £7.2m Being Brunel museum as a major new attraction for visitors to the SS Great Britain.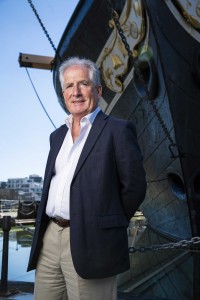 The innovative museum is already helping draw record visitor numbers to the ship as well as having a substantial impact on the regional tourism sector. Around 205,000 people visited the SS Great Britain last year – itself a record – but the Trust expects 2018's total to be far higher.
Jim McKenna, pictured, whose business career has spanned senior roles at IT giants Logica, GEC-Marconi and Plessey as well as a raft of small tech firms including Bath software firm Sidonis and digital data archiving firm Arkivum – also based in the city - said he was delighted to be taking up this position on the 175th anniversary of the SS Great Britain's launch this month.
"While I can't lay out the next 175 years in detail, we can commit to continuing to inspire future generations of engineers and entrepreneurs as well as further boosting the Trust's impact for South West England both in terms of the tourism economy and preserving its rich maritime heritage," he said.
He takes over as chair from Colin Green CBE, who had held the position since 2009. Colin, a former managing director of Rolls-Royce Aerospace, passionately oversaw the development of Being Brunel from its early planning and fundraising more than five years ago through to the Trust bringing together the world's most significant Brunel collection in a new museum with international significance.
Colin said: "I congratulate Jim on his appointment and am delighted that he will take the Trust forward with ambitious plans and a breadth of invaluable experience.
"I have enjoyed working with chief executive Matthew Tanner and staff and volunteers who have continually been forward-thinking and have delivered beyond expectation in providing a world-class visitor experience, unique event venue and education and academic programmes that successfully tackle real-world challenges inspiring future generations of engineers."
Jim McKenna, who became a trustee of the SS Great Britain a year ago, has long been passionate about improving opportunities for young people. He chairs Catch 22, a London-based not-for-profit social business that works to improve the life chances for young people and their communities and last year helped more than 44,000 individuals.
As well as working for UK tech industry pioneers Plessey, GEC-Marconi and Logica, where he spent 15 years and became chief operating officer, he also chaired Lancashire-based communication services group Azzurri.
He has chaired the supervisory board of multinational engineering and design group Parsons Brinckerhoff, the board of governors at the University of East London and was a member of the Government's Senior Salaries Review Board.
He is currently chair of PowerOasis, a global leader in intelligent energy management systems based at Shrivenham near Swindon.