An innovative washing machine developed by a University of Bath student is easing the hardship for refugees in a camp in Northern Iraq where water and electricity are scarce.
Nav Sawhney, pictured, came up with the idea for the 'Divya' hand-cranked machine after hearing the stories of families living in refugee camps struggling to hand-wash clothes.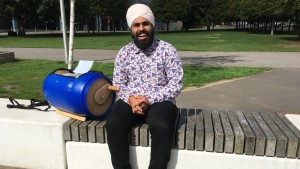 The back-breaking chore can take more than 12 hours a week and can not only lead to chronic back and joint pain but prevent young girls from gaining an education.
Nav's machine takes its inspiration and name from a woman in Southern India who first sparked the idea.
She explained to Nav, an MSc Humanitarian, Conflict & Development student and an engineer by background, how such a washing machine would transform her life.
Nav came away inspired to design a machine that could wash clothes almost anywhere and help people living on the margins of society.
The Washing Machine Project was launched to exploit the invention for humanitarian purposes and with the Iraq Response Innovation Lab and Oxfam has now delivered the first 50 to a refugee camp of displaced people in Kurdish and Federal Iraq.
The Divya has a drum capacity of 5kg but needs just 10 litres of water per cycle – a third of that used by the average electric washing machine. It is also powered by a crank handle. Both are crucial in water and electricity-scarce humanitarian settings such as refugee camps.
Nav said: "Since The Washing Machine Project's formation in 2018, we have travelled to five countries and interviewed 500 families on their clothes washing habits and strived to keep future users at the heart of everything we do.
"The worst thing for us would be to produce something that no one uses, which is why we spend so much time with our beneficiaries.
"Our team has also grown to include dedicated volunteer professionals with skills and expertise in NGOs (non-governmental organisations), communications, data science, engineering and organisational development.
"Last March we were lucky enough to be invited out to Kurdish Iraq by Care International, where we conducted a week-long field trial with two of our prototypes with 79 families in five IDP camps.
"The feedback was overwhelmingly positive, and we were given some useful direction on how we could further improve our design. We have developed partnerships with large international NGOs and a funding pipeline.
"What drives us forward is a common goal to make the world a better place with the skills we have. The exciting thing is that we're only just getting started."
University of Bath director of studies for the MSc Humanitarian, Conflict & Development course Dr Oliver Walton said: "We have been really excited to follow the progress of Nav's project since he started his Master's degree here.
"As an engineer who has been able to apply his technical skills to a humanitarian setting, Nav's experience really encapsulates what we are trying to achieve with this course.
"We want to provide students with in-depth knowledge and skills to work in humanitarian settings and build strong networks of people from varied backgrounds with a shared passion for working in the field of conflict and humanitarian response."
He said another feature of The Washing Machine Project was that it had been able to draw on a number of other students on the course who were already skilled practitioners, while also providing volunteering opportunities to students with less experience.
Response Innovation Lab manager in Iraq, Nathalie Rami, who has been instrumental in getting the project off the ground, added: "The Iraq Response Innovation Lab is very pleased to provide seed funding to The Washing Machine Project and support young entrepreneurs bringing innovative solutions to the humanitarian sector. The Washing Machine Pilot project is likely to improve the life of displaced women and girls affected by crisis in Iraq."
The Divyas were made with the help of 50 volunteers in November and December. The team has now set up an ambitious crowd-funding call to help them push the project to the next level. To contribute visit https://www.justgiving.com/crowdfunding/the-washing-machine-project?utm_term=GqwpADbBr