Bath has been named as one of the UK cities most likely to survive the retail meltdown now hitting the country's high streets and town centres, despite slipping down the national shopping centre rankings.
However, it is expected to have fewer stores in the future – with a number likely to be 'repurposed' for alternative uses.
A report by property consultancy Cushman & Wakefield identifies the most resilient retail locations outside London based on 24 economic, demographic and retail property metrics.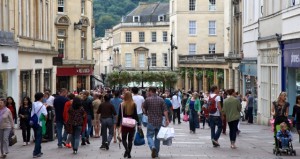 Out of 250 town centres across the country, Bath is in sixth position – down from third in last year's table. In contrast Bristol climbed seven places to take second slot behind leader Cambridge, which was also first last year.
Head of retail in Cushman & Wakefield's Bristol office, Spencer Wilson, said: "Whilst a positive picture for Bath, even it has been impacted by the ongoing structural change in retail which can be seen from the number of current vacancies on Milsom Street and New Bond Street.
"Although Bath has dropped from third to sixth in the resilience rankings, its unique urban environment and economic well-being should see it adapt to these changes, but a reduction in the existing retail provision is likely. We are seeing a trend for repurposing – take for example Tivoli, a boutique cinema transforming a former first- floor restaurant at Southgate shopping centre."
The report looks at how consumers are becoming more mobile and less reliant on physical stores, causing expectations to change, with retail driven increasingly by 'shopper mission'.
These missions generally fall into one of three categories, the report concludes – large destination, or experience orientated visits, purpose shopping that is focused on specific purchases, and community-based convenience trips. The report reveals that retail locations that do not align with at least one of these key missions will need to repurpose to remain relevant.
Senior research analyst and report author Amy Gibson said: "Our rankings look at a number of different measures and metrics which contribute to the vitality of a town centre. The retail mix is clearly important within that but it is not the only factor. In our view, the first step to understanding whether the UK's town centres are fit for purpose is to understand what the new purpose is for each location.
"The retail and leisure landscape in the UK's towns has become increasingly homogenous and in many cases not really kept pace with the changing demands of consumers. As we see a growing proportion of retail shifting online, there is a need to introduce alternative uses in town centres to help differentiate locations and ensure they remain aligned to the local catchment."
She said shops had to adapt to this as well and provide what people wanted and not just an identical template of other locations.
Head of development and place in Cushman & Wakefield's UK retail team John Percy said to succeed in the future, town centres needed to take a holistic approach.
"For town centre stakeholders to deliver a viable masterplan, the public and private sector must work together to understand the needs of those living and working in its catchment area," he said.
"From here, a transparent strategy can be devised, to help encourage local communities to interact more fully with town centres once more. Failure to do this will mean centres struggle as they become less relevant to their local population needs."