The future of Bath Youth Hostel has been secured for the next generation of visitors to the city through a £2.55m investment – the largest ever in the South West by leading youth charity YHA (England and Wales).
The funding has transformed the main Youth Hostel building – a Grade II-listed Italian-style mansion Bathwick Hill – completely refurbishing and upgrading it and adding 16 en-suite bedrooms to its accommodation.
An environmentally friendly, 11-bedroom annex has also been built in the grounds to cater for the families and couples travel market.
The sustainable timber framed annex has been designed and constructed with energy efficiency in mind, using sustainable construction materials, heat recovery units and LED lights.
All bedrooms now have secure electronic key access while a cycle store and guest laundry havd been built in its grounds in what the YHA has described as world-class facilities for thousands of young people who stay there each year.
YHA Bath has seen an uplift in guest satisfaction scores following the refurbishment. In the first month of the hostel being fully open, guest satisfaction rose from 86% to 94%, according to the YHA.
The hostel is also working with a local catering college to provide work experience for students while also be building closer links with schools and groups in the city and offering volunteering, training and employment opportunities to young people, enabling them to develop employability and life skills.
The results of the transformation were revealed at a special event with Mayor of Bath Cllr Patrick Anketell-Jones and Bath MP Wera Hobhouse.
Cllr Patrick Anketell-Jones said: "Bath Youth hostel has grown from strength to strength since 1953 and this latest £2.55m investment demonstrates how the nation's youth are central to the provision of recreational facilities."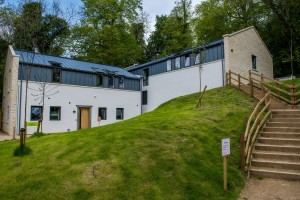 Wera Hobhouse added: "YHA has created a wonderful, welcoming and safe environment for people to stay in Bath. The new annex is fantastic. YHA is so much more than a low-cost accommodation provider. It offers young people a wealth of opportunities. From a parent's point of view, I can confidently say that the opportunity for affordable travel can help shape young lives."
YHA (England and Wales) chief executive James Blake said YHA Bath was a significant site for the charity.
"I am delighted we have been able to realise the vision to create another world-class youth hostel. Bath is one of the jewels in the YHA crown and has been one of our most treasured sites since it opened nearly 70 years ago," he said.
"Its prominent position means it acts as a gateway to both the city and the South West, helping us attract thousands of visitors and schools to stay with us each year. The upgrading of the site and increase in accommodation will enable us to welcome more guests to stay with us each year."
The investment has added significance for the charity's chairman Peter Gaines who hails from Wellow and will step down from the position later this year.
YHA Bath opened in 1953 and is now one of 19 Youth Hostels in the South West operated by YHA.
Pictured, top: Mayor of Bath Cllr Patrick Anketell-Jones officially unveils the £2.55m transformation with MP Wera Hobhouse, right. Bottom: The new annex