The table is being set to welcome some of the country's top chefs to Bath this autumn for a month-long food festival.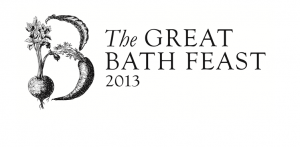 The Great Bath Feast in October will put Bath firmly on the UK's culinary map with a celebrity line up that reads like a who's who of gastronomy.
Events during the festival feature Bath-born Mary Berry, Raymond Blanc, Michael Caines, Prue Leith, Angela Hartnett, Nathan Outlaw, Jenny Chandler, Sally Butcher and Rachel Khoo.
Now into its second year and with a city-wide collaboration of more than 70 businesses, organisers describe the event as more feastival than festival.
Its culinary calendar gets locals and visitors eating and drinking, with taste trails and chef demonstrations; street food and supper clubs; wine tastings and tutorials; brewery visits and baking tips; a gathering of the nation's top cheese makers; high-profile guest chefs, celebrity book signings and cookery schools.
The event is staged by Bath Tourism Plus in partnership with The Bath Business Improvement District (BID) which is inviting Bath businesses to get involved with a new engagement pack (downloadable from greatbathfeast.co.uk).
The Association of Bath Restaurants chairman Jonathan Overton said: "In many ways the Great Bath Feast mirrors all the wonderful things that make Bath such an individual city for food lovers. Just like Bath itself, the Great Bath Feast is a collection of exceptional individual events being run by passionate and inspiring individuals throughout the city of Bath."
The festival launches on Wednesday October 2 with a banquet by Michelin-starred chefs cooking The Great Bath Feast in the spectacular setting of Bath Abbey in aid of charity. Guests will be greeted with a glass of Champagne Jacquart followed by a three-course menu prepared by Hywel Jones, executive chef at Lucknam Park hotel, Sam Moody, executive chef at the Bath Priory Hotel and Restaurant, and Chris Staines, head chef, The Allium Brasserie at the Abbey Hotel, accompanied by wines from Bath-based Great Western Wines.
Bath independent book store Topping and Company is bringing the nation's favourite baker Mary Berry back to the city where she grew up to present her autobiography. Topping's Autumn Book Festival features Sally Butcher talking about Snackistan with her trade mark wit and unique take on Middle Eastern Cuisine; Rachel Khoo, the food writer with Parisian style, will talk about her Little French Kitchen and Michael Caines who launches his first book At Home with a special event at the Bath Priory Hotel.
The star-studded line up continues at the Bertinet Kitchen with Angela Hartnett, author of Murano, The Bath Larder with Jenny Chandler, author of Pulse; Matt Follas, 2009 Masterchef winner and chef/proprietor of Wild Garlic in Dorset; Nathan Outlaw, another West Country culinary prodigy; William Curley, the chocolate expert and Charlie Digney, who owns two of Bath's fine gastro pubs – Garricks Head and The King William – will be taking a butchery masterclass.
The food perhaps most associated with the West Country is cheese. The Fine Cheese Co. Festival is at Milsom Place on Saturday October 26 – an annual fixture that brings the UK's top artisan cheese makers to share their champion cheeses and passion for their craft.
Great Western Wines is staging its Portfolio Tasting, the largest in the region, with 100 wines from boutique wineries while independent brewery Bath Ales will be hosting food and beer matching supper clubs in its Bath hostelries followed by a brewery tour.
Bath has had a long relationship with buns and the Bath bun was created in the city's Georgian heyday. The famous Sally Lunn's will host an evening with bread scientist Stan Cauvain, who takes a scientific look at The Perfect Bake plus a competition to win tea on top of the Abbey Tower to celebrate 10 years of Abbey Tower Tours.
Classes at The Vegetarian Cookery School, run by Rachel Demuth, take in a tour of global cuisines from flavours of the Middle East, to Malaysia and Indonesia, to Thailand and Vietnam, to Japan and Andalucia. On October 12 and 13, Rachel stages the Big Chilli Weekend in partnership with The Upton Cheyney Chilli Farm for a weekend of picking, learning about and cooking chillies, with expert tutors on hand.
Love Food Bath is an additional event to the weekly Farmers' Market at Green Park Station bringing together some of the best producers and chefs in the region to create a delicious and vibrant festival for all the family.
Restaurants are getting behind the plans with Carluccio's sharing its secrets of how to make pasta, risotto and focaccia; an evening with Prue Leith at the Allium; supper clubs at Bath gastropubs such as the Hare and Hounds, The Marlborough Tavern and The Chequers; and Raymond Blanc visiting Brasserie Blanc.
The month culminates with the Bath Good Food Awards, a celebration of the best of the city's thriving restaurant scene.
Bath Dines Out Again flags up a special opportunity to come back for more at Bath restaurants, The Great Bath Breakfast starts the day with fresh and local produce and the Bath Taste Trail provides an excuse to visit Bath delis and food stores to sample their wares.
Bath BID Manager Andrew Cooper said: "The Bath Business Improvement District works to promote the city through exciting events and the Great Bath Feast is a practical way for businesses to engage. We should be proud of the quality and diversity of the hospitality industry in Bath and talk about it regionally and nationally to drive customers to the city."
Bath Tourism Plus chief executive Nick Brooks-Sykes added: "The Great Bath Feast is yet another great reason for visitors to consider Bath as a great short break destination and adds to the vibrant calendar of festivals that the city plays host to. Bath Tourism Plus recognises our wonderful food and drink is a key part of the visitor experience."
For more details go to: www.greatbathfeast.co.uk