Bath Business Conference returns later this month after last year's success, with organisers Bath BID expanding it into a day-long event with inspiring workshops and networking opportunities.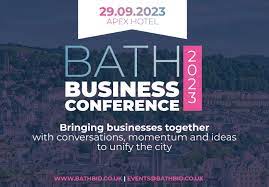 2022's conference was attended by nearly 200 local businesses, who came together to raise pressing issues facing their operations.
Taking place on 29 September at the Apex Hotel, this year's conference will cover a wider range of discussion topics.
Alongside speakers, workshops and panel discussions, there will be an exhibition and networking space where attendees can relax and get to know other local businesses.
The conference will cover three themes – Living and Working Well in Bath, The Brand of Bath and The Future of Work in Bath – with every part of the event offering inspiration and knowledge as well as an opportunity for businesses to be heard.
Bath BID surveyed the city's employees to find out what it is like to live in Bath, with the findings being shared during the Living and Working Well session.
This will be chaired by Bath Lynne Fernquest, former editor of the Bath Chronicle and now CEO of Bath Rugby Foundation, with panellists from the worlds of employee wellbeing and experts in regeneration including Bath BID CEO Allison Herbert, pictured, Pippa Garlland from Bath Mind, James Scott from socially responsible property development company Stories, Lucy Cotterell from law firm Mogers Drewett and Toby Howkins from West of England Combined Authority.
The Brand of Bath workshop, which runs at the same time, will be an interactive session hosted in partnership with Visit West.
Led by Visit West managing director Kathryn Davis, supported by Bath Rugby CEO Tarquin McDonald and creatively designed by Sue Bush of The Co-Foundry, this workshop is billed as fun and purposeful.
Attendees can expect to be asked to think, be creative and come up with bold ideas while also learning tactics to help them think about their own branding and sharing their ideas about Bath's brand.
The Future of Work session will explore emerging tech and what it means for skills and income with speakers including tech specialists and academics.
The networking lunch will be hosted by acclaimed BBC World News and Bloomberg TV journalist and broadcaster – and new Bath resident – Sharanjit Leyl, pictured, who will share her international perspective on the enduring appeal of the city and what can be done to protect it.
Tickets for the conference are £5, or £23 including the networking lunch.
To book, click here