Bath's visitor economy is to get a boost next month as it continues to recover from the impact of the pandemic with the opening of its new World Heritage Centre.
The centre on York Street, which opens on 9 May, celebrates Bath's unique cultural offering as UNESCO World Heritage Site and gives visitors an insight into what makes the city so special.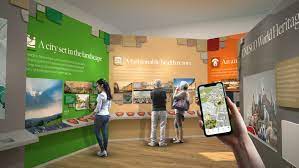 It is expected to attract 100,000 visitors a year when established.
Bath's vital tourism industry has suffered over the past two years as Covid lockdowns forced most attractions to close while domestic and international travel is only just recovering.
The extent of the damage caused by the pandemic on the sector was reflected last month in figures from the Association for Leading Visitor Attractions (ALVA), which revealed that annual visitors to the Roman Baths in 2020 slumped by nearly 73% to just over 350,000 compared to 1.3m in 2019, sending the attraction tumbling to 51st place in the table of most-popular UK attractions.
The ALVA report showed outdoor attractions such as gardens, parks, forests and zoos had benefited as those predominately indoors were forced to close for long periods or reduce their opening hours.
Bath tourism chiefs hope the World Heritage Centre, which is supported by The National Lottery Heritage Fund and will be free to visit – along with the neighbouring Roman Baths Clore Learning Centre for pre-booked school and community groups, which is due to open later this year – will act as a springboard for tourists and local people to engage with the city's culture, history and heritage and explore popular landmarks as well as lesser-known places around the city.
The two centres, part of the long-planned Archway Project, will also bring to life previously closed areas of the Baths to visitors, including a Roman gym and laconicum – a type of sauna – and an exercise courtyard with projections and sounds depicting the Roman spa experience.
Bath's status as a World Heritage Site means it ranks alongside places such as the Taj Mahal and the Great Wall of China as the greatest cultural sites in the world.
That status was boosted last September when Bath gained a second World Heritage listing as one of the 11 'Great Spa Towns of Europe' – an achievement that makes it the only UK city to appear twice on the World Heritage list and means it sits alongside a select band of other European cities with a 'double mention', including Bruges and Barcelona.
Bath & North East Somerset Council cabinet member for children and young people, communities and culture, Cllr Dine Romero, said: "The World Heritage Centre will provide something we've never had before in the city: a central place for visitors and residents to find out about Bath's special status as a World Heritage Site.
"It will inspire people to go out and discover the city's heritage, from spotting hidden details in the Circus and Royal Crescent, to learning about the extravagant funfairs that took place in Sydney Gardens or finding out how Romans placed curses on their enemies. We can't wait to open the doors to the public."
The National Lottery Heritage Fund director, England – London & South – Stuart McLeod added: "We're thrilled to see the World Heritage Centre opening following £5m funding thanks to money raised by National Lottery players.
"This state-of-the-art centre is part of the Archway Project and will offer a new learning experience for the local community and visitors to discover more about the fascinating history of this beloved World Heritage Site."
The centre will feature a host of interactive exhibits and displays designed to inspire, excite and inform. Friendly and knowledgeable staff and volunteers will be on hand to answer questions and help people make the most of their visit.
There will be free walking trails and guides to help visitors to the city explore all it has to offer.
A new mobile app packed with fun features, trails, quirky facts and a GPS map will also be available to download, allowing visitors to build bespoke itineraries based on their preferences.
Augmented reality characters and stickers can be collected at each destination, allowing users to take the ultimate selfie or create fun pictures with family and friends.
they can also collect golden acorns located around the city and reveal hidden gems while a gallery view lets users save pictures from their trip to give them a permanent collection of memories.