Interiors brand Neptune today threw open the doors of its first instore café having chosen Bath as the launchpad based on its reputation as a "city of foodies".
The Provenist forms part of Neptune's Walcot Street showroom in what was originally the city's tramshed.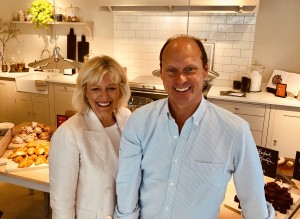 The café, which flies the flag for local food producers, also brings food back to a building that for many years housed a number of bars and restaurants under different brands until Swindon-based Nepture acquired it two years ago and transformed it into an upmarket showroom.
Speaking at this morning's launch Neptune marketing director Fiona Strang said the aim was to serve locally-sourced, home-cooked food, supporting growers and suppliers in the region in the traditional 'field-to-fork' ethos.
Suppliers include Bath's Bertinet Bakery, quinoa grown by Bath Farm Girls at Corston, meat from Walter Rose & Son butchers in Devizes and salad greens from innovative urban farmers Teeny Greeny at Southwick, near Trowbridge.
While Nepture has 28 stores across the UK selling its furniture and kitchens, its Walcot Street store is the first to offer food along its product range, which it manufactures in Swindon.
Fiona Strang said the decision to launch The Provenist café concept in Walcot Street was because "Bath is a city of foodies".
"Because of this, Bath customers are probably the hardest to please. So, if it works well here, we are absolutely sure it will work well across the country," she said.
Neptune is looking to add five or six more stores around the country, including one in Cornwall.
The company often looks for unusual sites – including disused pubs such as The Tramshed – which offer the layout of individual rooms which it then uses to create individual room settings.
Unlike other furniture and kitchen stores, sections within each store are grouped into room settings, each dressed with flowers and candles to create the feeling of walking into an actual house.
Pictured: Neptune marketing director Fiona Strang and chief operating officer Richard Pownall at today's launch of The Provenist