Bath businesses, IT experts and digital pioneers will be taking a step into the future when the city's Digital Festival returns later this year.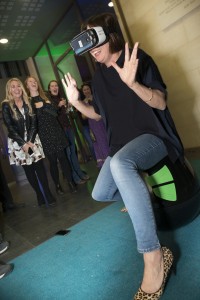 After the success of 2017's event, plans are already in the pipeline for another exciting five days of talks, activities, workshops and more as the World Heritage City is taken over by digital gurus and techies.
Now in its sixth year, the festival be staged in numerous locations across Bath between October 23-27.
The organisers say Bath Digital Festival isn't just for geeks. Last year more than 2,000 individuals, ranging in age from pre-school to pensioners, took part in 80-plus events across 26 venues – from robots to raising cash for local charities, cyber security to virtual reality, self-driving cars to coding for kids.
Collaborations with tech experts from local and global corporations, including Google, Apple, Dyson, Tesla and Natwest, and with a focus on making the digital world accessible to all, there was something for everyone at Bath Digital Festival 2017.
Dyson stole the limelight with a showcase of its latest projects, including the 360 Eye robot vacuum, pictured below. A roundtable event run by Bath-based digital experts Deep Blue Sky was another highlight, raising £2,000 for local homeless charities Julian House and The Genesis Trust.
Bath & North East Somerset Council leader Tim Warren, who spoke at the 2017 festival launch party, said: "Last year's event was a huge success for all those involved, and I am delighted this event is coming back to the city again this year as the digital sector is becoming more and more important to Bath's economy."
Based on the theme of 'discovery', this year's programme promises more innovative advances, inclusive events and stimulating debate and is shaping up to be the biggest and best festival yet.
Corporate sponsors already signed up to add their expertise this year are Invest in Bath, Minuteman Press and Bath-based Mayden Academy, which specialises in fast-track software developer training programmes.
Academy lead and senior developer Mike Oram said: "We've supported Bath Digital Festival for a couple of years. We're keen to inspire and support future generations of developers so we see real parallels between what we are doing and the whole ethos and spirit of the festival."
Bath Digital Festival director Jim Morrison, pictured, who is also CEO of Deep Blue Sky, said the festival was about understanding and embracing digital technology – and highlighted the fact that the Financial Times recently listed Bath as one of its top 10 tech hubs of tomorrow.
"Technologies are changing and advancing at an incredible pace – and everyone is impacted, from families to multi-national corporations," he added.
"We live and work in one of the epicentres of this acceleration. So we have a duty as a city, and as a community of leading tech companies like Deep Blue Sky, to bring together everyone whom digital change touches, with those who are at the leading edge of that change."
The festival is on the lookout for people with ideas to showcase or stories to tell as well as corporate sponsors.
Jim Morrison added: "For sponsors, the festival is a unique opportunity to position their brand in front of a wide consumer audience of forward thinkers and promote it as an industry leader, a visionary with a social conscience and interest in furthering society through innovation of technology and ideas.
"For speakers and event organisers the festival offers a super-friendly environment that's keen to support novice presenters and seasoned professionals alike. It's a futuristic platform to share experience and ideas with an audience that's hungry to learn and discover."
For further information on the range of sponsorship packages available, or to register an interest as a speaker or volunteer, visit www.bathdigitalfestival.co.uk