More than 500 jobs were created in Bath's tourism industry over a nine-month period as a result of campaigns run by Bath Tourism Plus working with the Bath Business Improvement District, new figures show.
The campaigns, which took place between June 2012 and February this year, generated £43.7m in consumer spending on trips to Bath – delivering a significant boost to its hotels, guest houses, bars, restaurants and shops.
Some 527 jobs were also created as a result of campaigns, which were in part supported by the Government's Regional Growth Fund (RGF) and backed by VisitEngland.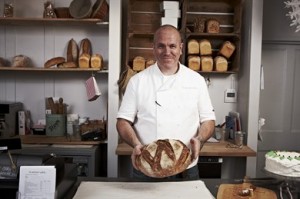 Events responsible for a significant uplift in visitor spending included the Great Bath Feast and the city's extensive Christmas and spring marketing campaigns, are campaigns in the city.
Nick Brooks-Sykes, chief executive of Bath Tourism Plus, the city's official destination marketing organisation, said: "By working together, we have delivered a series of high profile marketing campaigns to encourage visitors to Bath and the surrounding area.
Pictured: Richard Baker, who took part in the Great Bath Feast
"These results, which come from independent research and which have been audited by Government, show that we have delivered significant impact and exceptional returns. We continue to lead the field amongst destinations in creating highly successful campaigns, which are driving additional visitor spending into our economy."
Bath Business Improvement District (BID) manager Andrew Cooper said: "The figures are impressive and clearly show the benefits of our collaborative marketing activity both here in Bath, regionally and nationally.
"It is particularly pleasing to see that our efforts are driving and increasing spend with businesses and creating local jobs in Bath."
Leader of Bath & North East Somerset Council councillor Paul Crossley added: "Bath has an incredible amount to offer people who visit here whether it is for leisure, culture, eating or shopping. The council is delighted that these campaigns have opened people's minds up even more to the prospect of visiting here that in turn has created new jobs for local residents."
Bath is one of a number of destinations in England allocated additional funds through VisitEngland's Growing Tourism Locally programme, funded by the RGF, to support destination marketing campaigns designed to boost visitor spending and create jobs.
Meanwhile, early estimates show that spending at this year's Christmas Market contributed more than £20m to thecity's economy.