Bath Spa University was today named as the University of the Year for Social Inclusion by The Sunday Times Good University Guide 2024 while the University of Bath has maintained its place at No 8 in the publication's prestigious league table.
Bath Spa's accolade recognises its commitment to empowering students from all backgrounds with the opportunity to study and thrive in higher education, helping people develop skills today that will set them apart in the future.
The university, which has 13,000 students and 1,100 staff, also climbed a further three places in the main Good University League Table to 74 after leaping 20 places last year. It is the fourth year in a row it has improved its ranking.
The University of Bath had been steadily climbing the academic rankings this century but has remained in eighth place in the latest Sunday Times Good University Guide.
However, the university, which has 18,560 students and 2,180 staff, has made some progress in its record on social inclusion, according to the guide, with its figures lifting it out of the bottom five – although it remains in the bottom 10.
Famed for its sporting prowess, it continues to be one of the UK's most popular universities with applications hitting a record 32,600 in 2022, the same year it collected the Sunday Times University of the Year title.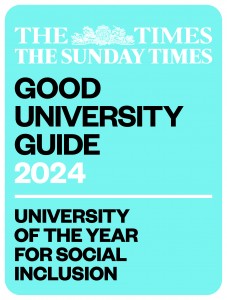 Top place in The Sunday Times Good University Guide 2024 main table has gone to the University of St Andews, which leapfrogged last year's winner Oxford. Third place went to Cambridge. The University of Bristol was at 16th, one down position on last year.
The guide said Bath Spa was made its University of the Year for Social Inclusion after rocketing 65 places into the top 20.
"The university has opened a London centre and this, as well as new franchise partnerships, has changed the student profile, bringing in more mature students (up from 17.7% to 71.7% year-on-year) and more from Black and ethnic minority groups (up from 8.6% to 31.4%)," it said.
"The university's efforts to prioritise people, communities and the environment have earned it the Social Enterprise Gold Mark — one of only five awarded to UK universities."
Bath Spa University vice-chancellor Prof Sue Rigby said: "Anyone with ability and passion should be able to study in higher education and change their lives by doing so.
"Through our work, alone and with our partners, we are changing lives and upskilling to grow the economy.
"Taking students on a journey from their starting point to the award of a degree is a privilege and a challenge.
"We know that creativity, curiosity and confidence are key to success in the jobs market or in setting up a business.
"We embed these skills and attributes in teaching focussed on the needs of our students, wherever that learning is delivered."
Bath Spa was ranked as 'first class' in the recent People & Planet's University League and is a double finalist in the UK Social Enterprise of the Year Awards.
As well as its Gold Mark for Social Enterprise, it also has a First Class Green Gown Award nomination, making it, according to Prof Rigby, "a beacon for social inclusion, fairness and sustainability".