Bath's Business Improvement District (BID) has become the first in the UK to glean anonymous data from visitors' mobile phones and credit cards to better understand spending patterns in the city centre.
The BID, which is funded by 675 levy payers, has teamed up with a specialist 'big data' consultancy which will provide it with weekly reports giving details of the types of visitors the city centre attracts, where they live and where they spend their money.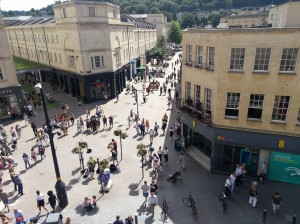 The information, which while being gathered from individuals' mobile phones if they are on the 02 network or credit cards if they use Visa, is completely anonymous. It will be used to plan better-targeted marketing campaigns and give the BID a greater understanding of how people move and spend around the city centre.
The BID said the Smart City Project had been developed in response to requests from its levy payers to give them a fuller understanding of visitors.
The original brief for the project was developed by Bath BID working with a team of key city organisation including B&NES Council, Bath Rugby, Visit Bath, SouthGate shopping centre and Avon & Somerset Police's counter terrorism unit.
Bath BID has bought footfall and sales data for many years, but by teaming up with London-based data consultancy Movement Strategies, far more detailed information can be received and analysed.
It also takes into account comments made about Bath on social media, including Twitter.
The type of information available through the Smart City Project includes:
• Age and gender
• Hobbies & interests
• Spending power
• Home location
• Work location
• Spend in the different types of businesses e.g. attractions, shops, hospitality
• Visit frequency
• Perceptions of Bath through 'social listening'
Some BID levy payers will receive the information weekly while the BID will produce quarterly reports based on the data.
Since the projected was launched in January, a far clearer picture of who visits Bath city centre and what they do while there has emerged.
Information gathered over the first quarter shows:
Nearly 20% of visitors are aged over 65 years

An estimated £450m in total was spent in-store during those three months in BA1/BA2 postcodes

Food and retail categories accounted for 75% of spend

Visitors with a higher spending power visited Bath much less during January, but returned in February and March

Residents living within 10km of the city centre accounted for 40% of the footfall and 59% of spend in the city

BA1/BA2 residents spent an estimated £420m online in total in the first quarter of the year

Social media sentiment towards Bath was overwhelmingly positive at 97%
Bath BID CEO Allison Herbert said the aggregated data would help with individual business planning as well as to assess the impact of events and activities in the city.
The trend information was also helpful in planning marketing for businesses and organisations and to understand the city's performance and support it to be resilient in the face of a changing high street environment.
"We are delighted to be at the forefront of providing visitor insights for our business members in Bath," she said.
"We look forward to sharing the results of the information gathering with our partners and business colleagues and hope this new project will form the basis of a new and improved understanding of the city which will bring success to Bath organisations and benefit Bath's high street.
Movement Strategies MD Simon Babes said: "We're pleased to be working with Bath BID and its stakeholders to deliver this exciting initiative in Bath.
"Bath is the first city to explore how this approach can help generate the insights to help better inform decision-making, while also measuring the performance of the high street in a smarter way."
Bath BID board member Gavin Thompson added: "The BID exists to help businesses in the city to thrive and those businesses, who pay a levy to fund the BID, wanted to know more about the people who spend money here.
"The BID has launched this pioneering Smart City Project to meet that need and support Bath's businesses to become even better at providing what their customers want.
"Working together through the BID helps us all help to maintain Bath as a wonderful place for residents and visitors alike."