Global second-hand and rare book retailer Bookbarn International is preparing for a major re-launch following the appointment of a new CEO.
Nick Bates has joined the Hallatrow-based firm after nearly four years at renown New York-headquartered publishing group HarperCollins, where he was sales and marketing director and, most recently, associate publisher based in London.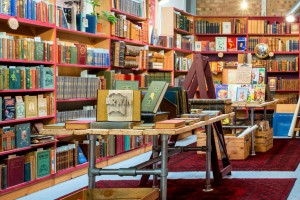 Bookbarn International was founded in 2000 and ships orders from its warehouse in rural Somerset, pictured, to customers all over the world.
The business has grown significantly in the past five years, generating sales of more than £1.6m compared to just £400,000 in 2013 as it exploits the growth of e-commerce.
Management has also recently overhauled every aspect of the cataloguing, fulfilment and warehousing systems.
Nick Bates said, as a result, Bookbarn was becoming a mecca for all booklovers – readers and authors alike.
"We have grown into a multi-channelled business with strong bulk sales in the UK and overseas, in addition to our strong online marketplace sales around the world," he said.
"Our bricks-and-mortar Bookbarn Bargain Bookshop is thriving in the printed book market that has grown in the past three years, complemented by our award-winning Full Stop Café, which has become a destination in its own right and has seen significant development in the past few months."
He said Bookbarn International was now a fine example of the 'think global, act local' mantra.
"We source all our books locally in the UK, while providing local authors and readers a haven and selling to more than 30 countries around the world," he said.
"We strive to act on our positive action mind-set by working with charities to promote their work, bringing diverse groups to Bookbarn International and shouting about the positive environmental impact of what we do and what more we can do working with local environmental projects.
"We want to encourage people to recycle unwanted books with us instead of chucking them away. Not one of the 750,000 books in our warehouse will ever go to landfill.
"As well as our recycling and sales operations, our reputation as a visitor destination is important to us."