Bath-based L&C Mortgages, the UK's largest fee-free broker, is to move its head office into the city's recently opened Newark Works development in a major success for the Bath Quays regeneration area.
L&C described its relocation to the former industrial building, pictured, as marking an exciting new chapter for the firm, underlining its position as a key provider of mortgage advice to homebuyers, homeowners and landlords across the UK.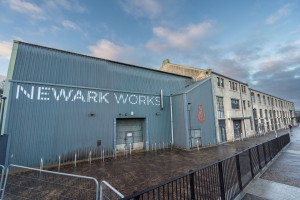 But it also underpins the emergence of Bath Quays as a major new business hub for the city.
L&C joins financial services consultancy and software provider Equisoft (formerly Altus), and chartered financial planning group Fidelius in relocating to the area off Lower Bristol Road. Both firms are now based in the neighbouring 44,470 sq ft No.1 Bath Quays flagship office building.
Newark Works, a collection of Grade II listed Victorian industrial buildings, was originally home to crane manufacturer Stothert & Pitt.
The once-derelict site has been transformed by developer and regeneration specialist TCN into modern workspace of the type that firms in Bath's burgeoning finance and creative sectors had previously had to move out of the city to find.
L&C has been based in the 1960s Beazer House office block on the other side of Lower Bristol Road for more than 20 years.
The firm, which employs more than 450 people, also has a satellite office in Newcastle.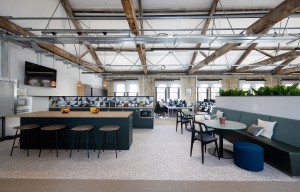 Its new 4,864 sq ft base in Newark Works has been created by Bath-based workplace design company Interaction and was chosen for its ability to offer its employees a modern workplace that reflects the new era of flexible and hybrid working patterns, with adaptable space for both focussed and collaborative working.
Interaction, which has worked on many of the West of England's leading office redesigns of the past two decades, also designed the communal spaces at Newark Works including a centrepiece bar and entrance – an area aimed at fostering community between tenants, creating a destination hub for Bath's creative businesses.
L&C CEO Alan Young said as a major employer in Bath and the surrounding areas, it was vital for the firm to retain its central position in the city.
"Newark Works is an exciting new development that fits the needs of our business as we continue in our drive to ensure that UK mortgage holders get the very best advice without having to pay a fee," he added.
"Our colleagues enjoy the flexibility of hybrid working and we're sure that Newark Works will give us the very best environment to ensure that continues.
"Working with Interaction has allowed us to develop a bespoke space and environment in which we're sure our colleagues will thrive, as we drive for future growth as the key provider of mortgage and protection advice in the UK."
Interaction managing director Dieter Wood said the firm had been "super excited" to be asked to design L&C's new HQ as the company was a great local success story.
"It will provide them with the flexible workspace they need to support hybrid working while helping to nurture a sense of community and greater collaboration," he added.
Last month Bath Business News revealed that London-based real estate developer Frank Capital plans to demolish four-storey, 31,000 sq ft Beazer House and replace it with a 152-bed hotel.
The firm said the building, named after its first occupier, housing company Beazer Homes, was "nearing the end of its economic life".
Stothert & Pitt, known as 'cranemakers to the world', was at one time Bath's largest employer and also provided the machinery that built the Great Western Railway. It closed in 1989, effectively ending Bath's industrial age.
When finished, the transformed Newark Works will be able to accommodate around 50 businesses employing in the region of 700 people, with its unique and iconic industrial-style offices accommodating single co-workers through to companies of up to 40 staff.
The restoration and retrofitting celebrates the site's historic and entrepreneurial origins by retaining original features – including some of the cranes – as focal points in the building.