Bath hotel No.15 Great Pulteney has been sold by city-based hoteliers Ian and Christa Taylor three years after they transformed it from a row of unloved Georgian terrace houses into a multi award-winning boutique venue.
New No.15 Great Pulteney owners, the family-run Guest Holdings, has said they will keep its highly distinctive décor and furnishings as well as retaining all staff, including managing director Jonathan Walker and the senior management team.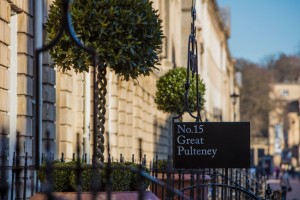 Ian and Christa, who own the Kaleidoscope Collection of small hotels, bought No.15 Great Pulteney in March 2016. At the time many nearby residents feared the Grade-I listed Georgian terrace on Great Pulteney Street – which had been the 31-bedroom Carfax Hotel and more recently run by Salvation Army – was in danger of being converted to apartments.
Having transformed it, adding eight further bedrooms in the process, and now sold it for an undisclosed sum, the couple this week said they have no plans to offload their other two Bath hotels – The Bird, Bath on Pulteney Road and Homewood in Freshford.
The couple are known for buying small hotels and transforming them into upmarket boutique venues full of idiosyncrasies and unusual décor, often with items from their own art collection.
Before arriving in Bath, they turned the Cotswold House in Chipping Campden, Gloucestershire, into a high-performing, luxury boutique hotel.
The Cotswold House and sister hotel Noel Arms were sold by the Taylors in 2007.
They bought the 62-bedroom Abbey in 2012 for £5.5m from Compass Hotels. Under their stewardship it went from holding three AA stars to four and has doubled annual turnover to around £3.6m.
Over recent years they have also owned the 21-bedroom Villa Magdala, which they sold to the Indian-owned Roseate Hotels & Resorts.
Within a month of selling the Abbey Hotel to US-UK group KE Hotels they had acquired the four-star, 22-bedroom County Hotel from Seasons Group.
They also own Homewood Park, which they have completely transformed by over the past year to feature 21 bedrooms and suites, a spa and relaxed dining, set in 10 acres of newly restored gardens.
Guest Hotels is run by brothers Tristan, James and Tom Guest, who said they were aiming to 'preserve all that is special about what the Taylors have created' at No.15 Great Pulteney.
The hotel also includes a spa with four-themed treatment rooms, a hot tub and barrel-shaped sauna within exposed stone vaults was revealed.
Ian Taylor said: "Since purchasing the three Grade I Georgian townhouses in March 2016, No.15 has seen a complete transformation – with the help of its luxury-for-the-curious mantra, it has certainly been brought back to life since its days as the Carfax Hotel, and now holds its own within the Bath landscape of luxury boutique hotels – we could not be more proud of what managing director Jonathan Walker and the Kaleidoscope and No.15 teams have helped us achieve in just three years.
"We would like to wish Tristan, James and Tom Guest the very best of luck with their first Bath venture. We are delighted that it's very much business as usual for guests and staff alike, with Jonathan and senior management, as well as all No.15 staff, remaining in place."
In a statement, the Guest brothers said: "We are very much looking forward to getting to know and working with the No.15 team and becoming a part of the Bath community.
"No.15 is a unique property and we aim to preserve all that is special about what the Taylors and the highly committed team at No.15 team have created, and we will invest to ensure its continued growth."
No.15 was named 'Outstanding New Hotel' at the Independent Hotel Show in October 2017 and went on to win Gold at the 2018/19 Bath, Bristol and Somerset Tourism Awards in the Large Hotel of the Year category in November 2018 and Silver in the South West Tourism Awards in early 2019.