An environmental initiative between Bristol Airport and easyJet that slashed emissions from equipment used to get passengers and baggage onto aircraft has won an international award.
The trial – believed to be the first of its kind – reduced emissions to almost zero by using electric ground vehicles instead of diesel to move aircraft steps, baggage trollies and belt loaders as well as the ground power units used to service aircraft between flights.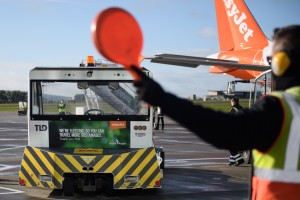 The initiative, part of an ongoing collaboration between the airline and airport to decarbonise ground operations, was recognised at the ACI EUROPE Best Airport Awards, where it came joint top of the Eco-Innovation category.
The coveted awards recognise excellence and outstanding achievement across the entire portfolio of airport activities.
Judges described Bristol Airport's 'low emission turnaround trial' with easyJet as a "notable starting point" for their ongoing Strategic Sustainability Partnership, given the challenge of reducing emissions.
Results from the trial, which ran for six months from last September on two dedicated aircraft stands used by easyJet aircraft, showed a 97% reduction in CO2 emissions.
EasyJet, the airport's largest operator accounting for about half of all its flights, using Bristol Airport as a testbed to trial and implement the latest technological and innovative solutions for decarbonising its operations and reducing waste.
The partnership is staging a series of trials using the latest cutting-edge technology and other innovations that could lead to operational efficiencies.
The aim is to achieve net-zero emissions at the airport alongside taking steps towards reducing easyJet's overall carbon footprint.
EasyJet has a 17-strong fleet of aircraft based at Bristol which serves its 70-plus destinations.
The airline and airport hope any successful results from the trials will have the potential to be rolled out across easyJet's entire network, which spans 150 airports across 35 countries.
Bristol Airport sustainability and corporate affairs director Simon Earles said: "We are delighted to be recognised by ACI and winning the Eco-Innovation award.
"It supports our long-term sustainability strategy and is another example of demonstrating our commitment to addressing climate change.
"This award is such an incredible achievement and is recognition to the teams and partners collaborating and making a significance change to aircraft ground operations.
"The teams at easyJet, Bristol Airport and our partners worked tirelessly to get this initiative from inception to reality and reduced aircraft turnaround emissions.
"I am extremely proud of our efforts, and we are receiving this award on behalf of all teams involved. It's another step on our way to becoming one of the UK's most sustainable airports.
"Sustainability is at the heart of Bristol Airport and everyone's collective involvement and is testament to our team's commitment and recognition in managing, reducing and offsetting carbon dioxide emissions under our control."
The trial also had input from airport suppliers and contractors TCR, DHL, ITW, Up and Away and Terberg.
Bristol shared the Eco-Innovation award with iGA Istanbul Grand Airport, which won for a project that uses Internet of Things technology as a tool in managing and optimising processes and decision-making. Its environmental co-benefits included the real-time data referring to airport-wide sustainability.
The annual awards were announced this week during the gala dinner of ACI Europe's 32nd congress and general assembly in Rome.
In June last year Bristol Airport announced its intention to become carbon neutral later in 2021 by hitting targets it originally expected to reach in 2025 – setting it up to gain the title of the UK's first net zero airport by 2030.
However, that claim was immediately slammed by some environmental groups as well as Green Party councillors on Bristol City Council, who described it as "utter nonsense and a cynical form of greenwashing".