Passengers arriving at Bristol Airport by public transport could benefit from a multi-million pound improvement scheme submitted to North Somerset Council for planning approval.
Despite the devastating impact of the coronavirus pandemic on the airport, its bosses have brought forward plans for a Public Transport Interchange (PTI) facility next to the terminal building, which they say will not only bring "substantial improvements" for people using public transport but help towards making the airport more sustainable.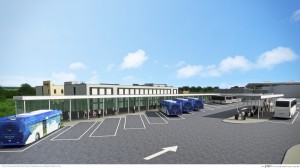 The PTI, pictured right and below, includes more space for buses, a new taxi rank and taxi service reception, charging points for electric cars, a café and a covered walkway to the terminal.
If approved, it will be built on the site of the existing Drop and Go Zone, to the west of the terminal building and south of the hotel.
The Drop and Go Zone will be relocated to the existing car parking area north of the terminal, next to the multi-storey car park.
The airport said this would ensure access for all pedestrians to the terminal remained safe and convenient.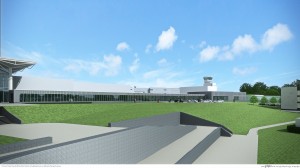 Bristol Airport CEO Dave Lees, pictured, said: "The proposed new Public Transport Interchange will enhance the accessibility of the airport for passengers and staff using public transport.
"Sustainability and greener growth are at the heart of Bristol Airport's plans and this development supports our ambitions to become carbon neutral for direct emissions by 2025 and a net zero airport by 2050. The PTI will deliver a substantial improvement in the public transport offering at the airport."
Earlier this year the airport, the fifth busiest in the UK outside London, fast-tracked its target of becoming carbon neutral from 2030 to 2025 to bring it into line with climate emergencies declared by Bristol City Council and the West of England Combined Authority.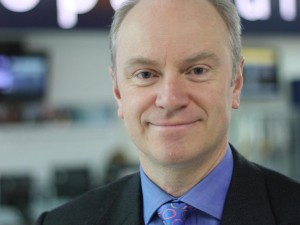 It also said it would bring in a carbon levy to offset all road journeys and keep emissions from all its flights at 2020 levels – although this second point will be affected by the impact of the lockdown on the airport's traffic.
Flights and passenger numbers this summer and autumn have remained a long way short of their levels ahead of March's lockdown even before the latest government restrictions on all but essential travel announced last weekend.
Last week Mr Lees welcomed the launch of tour operator Tui's winter 2021/2022 and summer 2022 flight programmes from Bristol as a clear indicator of a slow recovery and gradual return to normal of the UK aviation industry.
However, the airport's largest operator easyJet, which serves 72 destinations from Bristol, has said it does not expect demand to fully recover until 2023.