British Airways is to start flying from Bristol Airport again after a decade-long gap with the launch of four summer-only routes to popular European sunspots.
From May the airline will begin direct weekly flights from Bristol to the Spanish holiday destinations of Malaga, Ibiza and Palma and to the Italian city of Florence.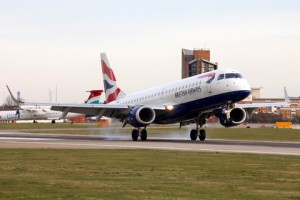 The Malaga route puts BA in direct competition with budget rivals easyJet and Ryanair, both of which operate daily flights to the city.
EasyJet also flies weekly to Palma, Majorca. However, there are summer-only flights to Ibiza with Ryanair while Florence is not served at all from Bristol.
BA last flew from Bristol in 2007 when the regional airline business was sold to Flybe. It will operate modern 98-seat Embraer 190 jet aircraft, pictured, on its new weekend services.
British Airways' general manager commercial and customer Luke Hayhoe said: "We are very excited to be returning to Bristol with four very popular routes. Customers can once again enjoy competitively priced flights to the sun direct from their doorstep with British Airways to those destinations they tell us they want to fly to. We look forward to a busy summer at Bristol."
Basic each way fares from Bristol to Palma start from £45, to Florence and Ibiza from £49 and to Malaga from £59.
Bristol Airport chief executive officer Robert Sinclair said: "We are delighted with the announcement which will see the iconic British Airways brand returning to Bristol Airport.
"It will be the first time an airline has operated a scheduled service between Bristol and the Italian historic city of Florence, which we are sure will prove very popular. These additional flights to Palma, Florence, Ibiza and Malaga offers passengers in the South West and Wales region further choice of scheduled flights for the summer season. We look forward to working with British Airways on the new routes and further enhancing the services available from Bristol."
Meanwhile Ryanair this week launched a new winter route from Bristol to Cologne, with a four times weekly service, as part of its Bristol winter 2017 schedule.
The German city has long been on the list of destinations most requested by businesses in the region. It will be the sixth German city served by direct flights from Bristol.
To mark the launch of the Cologne route, Ryanair is offering some seats at €9.99 one way until midnight on Monday.