Bath-based communications firm The Agency is working with Start-Up Loans, the £112m initiative helping thousands of young people launch their own businesses, to advance and re-launch its CRM (customer relationship management) platform.
The system has been designed to allow extensive and secure data sharing between Start-Up Loans, which is chaired by former Dragons' Den star James Caan, and its ever-expanding network of loan delivery partners – making it an essential tool in administering the scheme.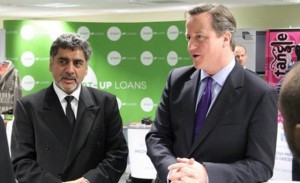 David Cameron and James Caan at the launch of the Start-up Loans scheme
The Start-up Loans Company has recently completed its £10m pilot phase and is now looking to scale-up its operation. It is expected to help start 25,000 new businesses by 2015. So far it has received more than 20,000 applications and approved almost 5,000 loans totalling more than £21m.
The company was initially set up to help budding entrepreneurs aged between 18 and 30 years old to access funding. However, former Business Secretary Lord Young has recommended the age cap is removed to promote the creation of micro-businesses (those with fewer than 10 employees). Businesses of this size make up 95% of all UK firms and which have been identified as a key contributor to economic recovery.
Start-Up Loans Company CEO Tim Sawyer said: "With the pilot scheme being such a success, we now have a greater reach and a higher number of applications to process. The CRM system that has been developed in partnership with The Agency will allow us to efficiently and successfully deal with this demand and provides the technology we need to support us in fulfilling the scheme's full potential."
The Agency has worked with large-scale organisations including the AA, BT and BSM. It has been working closely with the Start-Up Loans team for a number of months.
Managing partner Saman Mansourpour said: "We're delighted to be involved with an organisation like Start-Up Loans that is making a measurable impact on businesses and individuals every day.
"We nurture our entrepreneurial spirit within The Agency and we know how important funding is to give flight to these new initiatives. These businesses are absolutely vital to the financial future of the UK and are contributing directly to our economic recovery".
The Agency builds brands and drives direct response through big ideas delivered consistently across multiple channels. Signature campaigns often combine viral, social media, display advertising, email, press, outdoor and direct mail.