The big fall in Britain's trade gap announced today has been welcomed by Business West – but it said more needed to be done to rebalance the economy towards exports.
Figures from the Government's Office for National Statistics (ONS) showed the deficit shrank to its smallest amount in almost a year in June. The gap between imports and exports narrowed to £8.1bn, down from £8.7bn in May.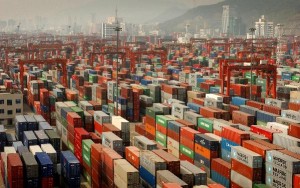 Exports to non-EU countries rose sharply as UK firms targeted markets not impacted by the euro crisis.
Phil Smith, managing director of Business West, which runs the Bath Chamber of Commerce, said the figures were "yet more positive news for the economy, with longer-term comparisons signaling an improvement in the UK's trading performance".
But he said the Government should help more firms enter overseas markets, particularly non-euro ones.
"Britain's exporters are now starting to focus more on trade with countries outside the EU," he said. "This is particularly encouraging as these countries are growing at a faster rate and will be the ones that provide the greatest opportunities for UK firms."
He said the positive national picture was reflected in the region. Some 40% of West businesses increased their export sales, according to Business West's most-recent Quarterly Economy Survey – a rise of 17% when compared with the previous quarter. The survey, compiled from responses by more than 400 businesses, also showed that more than a third increased export orders over the same period – an increase of 12% on the first quarter.
"Despite these improvements, however, our trade deficit is still too large and we aren't making enough progress in rebalancing our economy towards net exports," said Mr Smith. "The Government must seize this momentum and do more to help British exporters penetrate new markets and compete on a level playing field in key areas such as trade finance, insurance and promotion.
"Business West is working hard on encouraging businesses to export, which is vital if we are to transform our economic recovery from good to great. Through Acorn Interactive, UK Trade & Investment (UKTI) and Enterprise Europe Network (EEN), there is a huge amount of help available to enable firms to boost their business overseas."