Bath's firms are being invited to take part in a public project to fill the city's streets with giant bunting made from their artwork and designs in the run-up to Christmas.
The competition has been launched by the city's Business Improvement District (BID) and printing firm Minuteman Press Bath, who see it as a great opportunity for team-building in businesses as they – and their staff – face upheaval triggered by the coronavirus pandemic.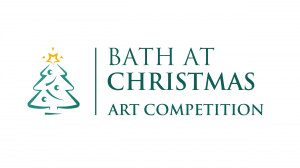 Up to 24 designs created by the community and businesses will be reproduced as a rainbow of art hanging from lampposts in the streets.
The contest is open to everyone who lives or works in Bath and North East Somerset as well as businesses. The public will be able to vote for their favourite designs on Bath BID's social media channels.
All winners and runners-up, plus some selected entrants, will have their work displayed from November 16 until the end of December. Category winners and runners-up will also receive gift vouchers from the Bath Gift Card.
There are four categories – Under 10, Under 21, Over 21 and Business.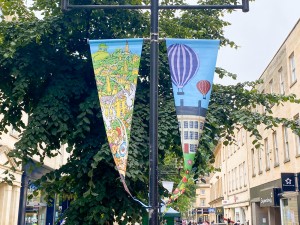 Bath BID CEO Allison Herbert said: "Following the success of our Bounce Back Bath Art Competition this summer [pictured], we are delighted to be showcasing local artists' work around the city centre once again.
"This time, we're opening up the competition to businesses, who can submit a piece of artwork that represents their festive offering – a great teambuilding activity!
"This is just one of a number of safe, socially distant, joyful events set to take place in the city this Christmas. We can't wait for people to come along and see their own artwork on display.
"Anyone is welcome to send in a design using any medium and any style they like, abstract or realistic, digital, watercolour, collage, whatever they wish. We are looking for bright, festive designs to welcome people into the city. We will be showing the artwork online and then flying the flags high in the city streets as part of the magical Bath at Christmas."
Minuteman Press Bath director of marketing David Dixon added: "Here at Minuteman Press, we believe that it is more important than ever to stop and reflect on what for many has been a difficult year.
"We deserve a little joy this Christmas more than any other, and there's no better way to celebrate than with some joyful art for all to enjoy on our streets."
For more details about the competition and how to enter, visit bathbid.co.uk/christmas-art-competition.
Pictured: Bath BID CEO Allison Herbert, far left, and Minuteman Press Bath's David Dixon, front right, with some of the Bounce Back Bath Art Competition entrants