Craft brewery Butcombe, which owns pubs in and around Bath, has made its first move into the fast-growing no and low alcohol drinks market with the launch Goram IPA Zero.
Butcombe, which has been making beer since 1978 and owns The Broad Street Townhouse and The Pig & Fiddle in Bath, described Goram IPA Zero as an easy-to-drink and refreshing ale made with a punchy blend of English, US and New Zealand hops which balance stone fruit, citrus and bitter notes.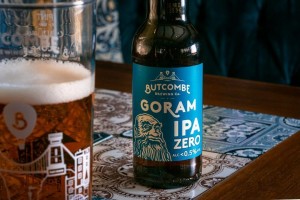 This recipe mirrors Butcombe's original Goram IPA – named after Bristol's legendary giant – giving it the strong, big flavours of a normal IPA but without the alcohol.
According to drinks market analysts IWSR, sales of no and low (NoLo) products are expected to grow by 34% over the next three years, while overall alcohol consumption in the UK will decline by 10% in volume in the coming year.
Marc McGuigan, brewing & distribution MD of Butcombe's parent group Liberation, said: "Very often, low alcohol ales can lack substance but our Goram IPA Zero packs a real punch.
"We've developed and tweaked the recipe and brewing process to ensure those wishing not to consume alcohol are able to enjoy a draught or bottled beer which is authentically produced and flavoured."
He said the NoLo market was going to grow in popularity as consumers demanded more choice.
"It's important for us as an award-winning brewery to ensure we're part of this growing trend and create innovative products we know our customers are going to love," he added.
"Goram IPA Zero fits into our drinks portfolio perfectly and adds a new dimension to our offering."
The brewery, which for many years made just one beer, Butcombe Original, now produces a range that includes bitters, pale ales, lagers and IPAs. It also produces a gluten-free version of its Gold Ale.
Alongside its brewery in Wrington, it owns a portfolio of 60 pubs around the West and South of England and the West Midlands – many of them gastropubs or inns with accommodation.
As well its two Bath pubs it also owns The Old Crown Inn in Kelston, The Charlton Inn in Shepton Mallet, The Fleur de Lys and The George Inn in Norton St Phillip, The Crown Inn at Tolldown, Dyrham, and The Kings Arms Hotel in Melksham.
Goram IPA Zero, which has an abv of less than 0.5%, is available on draught and in 330m bottles.