Bath manufacturing group Rotork is benefiting from growing investment in carbon capture projects and by oil and gas companies in North American to use electrification to eliminate methane emissions.
As a result, the group, which designs and makes flow control equipment for the global oil, gas, water and chemical industries, said today it expects its operating profits this year to be slightly ahead of its earlier expectations.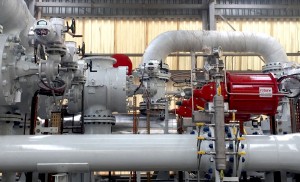 Last month Rotork hailed a return to growth last year after a challenging period when it was beset by supply chain issues and the aftermath of the pandemic.
Today in a trading update for the period between 1 January and 2 April it said it had enjoyed an encouraging start to 2023 and had good visibility into the second half – although it added that there remained continuing global macro-economic uncertainty.
Order intake in the period was ahead by a mid-teen percentage on a year-on-year basis, it said, with all three of its divisions – Chemical, Process & Industrial (CPI), Oil & Gas and Water & Power – making encouraging progress.
Orders continued to be driven largely by customers' operational spend, it said, while it had also seen a return of a relatively high level of large project activity.
Revenues in the three months grew by 18% year-on-year, although this was against a comparative period when it supply chains had been disrupted.
Sales benefited from both volume and selling price increases, with all divisions and regions ahead year-on-year and with particularly strong growth in the Americas.
It also said it had been encouraged by early momentum from its Growth+ strategy introduced at the end of last year with a vision to make Rotork the leader in intelligent flow control.
It added: "We continue to see good growth opportunities in our target segments. In North American upstream, for example, there is growing momentum behind electrification in the drive to eliminate methane emissions.
"In carbon capture and storage there has been a marked pick-up in enquiries and in quotation activity in the period when compared to the prior year."
Rotork employs around 3,200 people, has manufacturing facilities in more than 16 locations and serves 170 countries through a global service network.