Bath legal and financial planning firm Mogers Drewett has become one of the first businesses in the South West to be certified as carbon neutral.
A string of green initiatives introduced over the past year have enabled the firm to offset 100% of the amount of carbon it generates.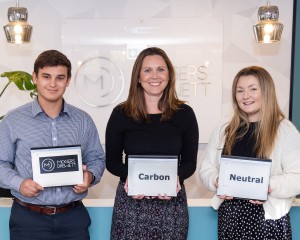 Mogers Drewett, which also has offices in Frome, Sherborne and Wells, has worked closely with Bath-based climate action consultancy Seedling to reduce its CO2 footprint by investing in gold standard accredited renewable energy projects around the world.
It has also brought in carbon reduction measures of its own, such as introducing energy-efficient LED lighting in its offices and for those working from home, and scaling back the amount of paper it uses while also bringing in more efficient technology to reduce its power consumption.
As a member of the Legal Sustainability Alliance, a national not-for-profit network of green law firms, Mogers Drewett has also teamed up with Bristol-based consultancy Ecologi and has pledged to plant a tree for every newsletter sign-up it receives.
The firm, which employs nearly 100 people providing a full range of legal services for businesses and individuals, has planted more than 500 trees in locations around the world so far as well as significantly reducing the amount of paper it uses by emailing information rather than printing it.
Software packages such as DocuSign and Bundledocs have also cut down on paper while its uptake of Remarkable tablets means it has phased out the use of traditional notepads.
Mogers Drewett also carried out a thorough review of its stationery and energy suppliers, switching to providers with strong green credentials to gain its carbon neutral status.
Mogers Drewett green team leader Harry Durston, pictured with colleagues Jessica Gregory and Scarlet Clemens, said: "As a firm, we recognise that we have a responsibility to future generations to operate our business in a way that minimises our impact on the environment
"So, we are extremely proud to become a certified carbon neutral business. It provides independent recognition of our commitment to reducing our environmental impact and operating in a more sustainable way."
Managing partner Sean McDonough added: "Internally, there is a strong drive to take measures that will make a positive impact on the environment, we not only accept that challenge we welcome it.
"Clients are also acutely aware of the impact of climate change and supportive of our drive towards carbon neutrality."