New occupiers for a shopping centre that changed hands this summer in a multi-million pound deal are being sought by its recently appointed property agency – with an emphasis on restaurant, leisure and health operators.
National property consultancy Carter Jonas was taken as the sole leasing agents for the Emery Gate centre in Chippenham, pictured, following its acquisition by Acorn Property Group in August.
While the 1980s-built mall already has a range of retail occupiers, including Tesco, Bon Marche, Holland & Barrett, Card Factory, Peacocks and Sports Direct, Carter Jonas is targeting a wider range of occupiers to reflect changing consumer spending trends.
Several retail opportunities are immediately available in the 90,000 sq ft undercover centre ranging from 211 sq ft to 2,529 sq ft – with Acorn saying it plans to improve the scheme by adding new retail, dining and leisure facilities.
Emery Gate's planning consent means any unit can be used for retail, financial and professional services, cafés, restaurants, offices or medical, subject to the landlord's consent.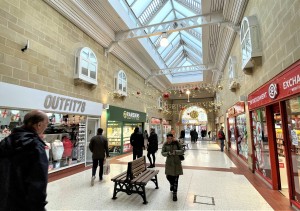 Carter Jonas partner, commercial, Stuart Williams said: "Shopping destinations such as Emery Gate are integral to local areas and benefitting from rising popularity, particularly in the current climate with more people choosing to use facilities locally.
"In addition to retail, restaurant and leisure, medical-type uses would be welcome, including doctors, dentists, and physios, as well as gyms, yoga and Pilates-type operators to create an attractive mix.
"This added appeal, alongside the landlord's flexible approach, is helping to drive inquiries and attract interest from businesses looking to expand with additional outlets and those requiring space to start new local enterprises.
"We are already speaking with several interested parties and expect to add to the offering with exciting new occupiers shortly."
Mr Williams, who works in Carter Jonas' Bristol office, said the centre was special to him as he had worked on it as a junior surveyor when it opened its doors in 1986.
"I was part of the original leasing team as the centre opened, and I really appreciate its importance at the heart of the community," he added.
"We are extremely excited to be supporting Acorn Property Group in promoting opportunities at Emery Gate."
London-based Acorn bought Emery Gate – its largest-ever commercial investment – in an off-market deal from Exeter-headquartered property group Eagle One for an undisclosed sum.
At the time Acorn described the centre on Chippenham High Street as having "tremendous potential" for further development, with proposals including improving its links to a park at its rear and the River Avon.