A tiny historic pub has reopened its doors after surviving the lockdown with the help of a Bounce Back Loan.
The Flemish Weaver, which has been a feature of Corsham's picturesque High Street since 1625, secured the government-backed financial support through Barclays.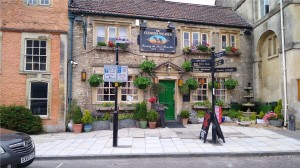 Owner Robert Carter, who bought the family pub just over three years ago, is in doubt that it was saved by the loan – enabling it to join the estimated third of British hostelries to welcome back customers after being close for more than three months.
He said: "If it wasn't for the Bounce Back Loan, we wouldn't be here as a business now – we'd be gone."
The quirky pub has become a pillar of the community under Robert's ownership with a loyal customer base. Positive online reviews have also made it a magnet for visitors to the area.
Profits had grown by 25% a year since he took over what describes as his "tiny little pub". But when the coronavirus struck pandemic struck its future looked far from certain.
Robert and his team successfully applied for funding from Barclays through the Bounce Back Loan scheme, which immediately helped to ease pressure on its cashflow while The Flemish Weaver was closed.
With the funding in place and the future of the pub looking brighter, Robert began to think of sustainable ways to cheer up the community while also bringing some money into the business.
These ranged from Sunday roasts wrapped in tin-foil and taken away in suitcases, to pints poured into milk cartons and served out of the pub's windows.
Ahead of re-opening, the team also put social distancing measures in place, including separate garden booths, one-way systems, bells to communicate with staff, buckets to collect glasses and infra-red temperature testers.
Robert added: "So many people have rallied around us to give their expertise and business advice. It feels like this sort of thing brings the best out of people. I'd like to give my wholehearted thanks to the community and say keep calm, because we're carrying on at The Flemish Weaver."
Barclays Business Banking industry lead for hospitality & leisure Graham Austin said the hospitality trade had felt the full force of the Covid-19 measures, so it was great to see a light at the end of the tunnel for businesses which had now been able to re-open.
"This is just one example of where Barclays has supported hospitality businesses like The Flemish Weaver to help them get back on track as soon as lockdown restrictions have eased and as safely as possible," he said.
Bounce Back Loans of between £2,000 and £50,000 – up to the value of 25% of a business's turnover – are available from all major lenders.
They are interest-free for the first year and 100% backed by the government.