Bath's world-class expertise in micro-electronics could play a crucial role in the recently-announced Smart Cities Trade Mission to China later this year.
The West of England boasts the world's second-largest cluster of micro-chip design expertise outside of California's Silicon Valley.
The Bath area is home to leading-edge chip design firms such as Picochip, now part of US company Mindspeed Technologies following its £33.6m acquisition, while Chippenham-based Deltenna Limited designs and manufactures innovative wireless infrastructure and access points.
A number of firms have spun out of the University of Bath and the area also has a strong bedrock of funders such as Eden Ventures, and specialist tech advisors.
Now organisers of the trade mission want to tap into that type of expertise to showcase the region when they visit China's hi-tech centres in November, not only to promote the West of England and its innovation to Chinese firms but to seek potential business partners and investors in the world's second-largest economy who are looking for opportunities in the UK.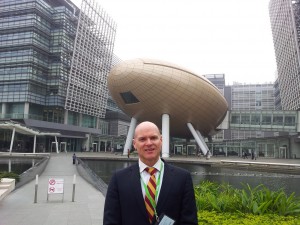 The mission, which is backed by Invest in Bristol & Bath, Low Carbon South West, the Institute of Directors South West, the Hong Kong Trade and Development Council, and the Hong Kong Science & Technology Park, is being organised by Red Dragon Advisors, a Bristol-based firm which helps businesses build links with China and the Far East.
The firm has staged two previous missions to China – in 2012 and 2014 – but is targeting this year's trip at the sectors in which the West of England have particular world-prowess such as micro-electronics, low carbon technology and creativity. It is also concentrating on just three hi-tech cities – Guangzhou, Hong Kong and Shenzhen.
Red Dragon Advisors recently hosted a visit from representatives of the Hong Kong Science & Technology Park who were impressed with the area's silicon design expertise.
Director Richard Lowe, pictured above on a recent visit to the Hong Kong Science Park, said: "We will build on excellent links already made in China through previous visits by us and others, particularly on the Smart Cities theme."
Mayor of Bristol George Ferguson signed a declaration at the China-EU Summit in Beijing last November with Guangzhou – one of only 12 European cities and the only UK city to sign the agreement that represents a commitment to forging closer ties in education, employment, sustainability and science.
Beijing has allocated $322bn to more than 600 cities across China, including the three cities to be visited by the trade mission.
Bristol was selected as one of only 15 European cities to participate in a European Commission-endorsed pilot project on Smart City cooperation with China, committing it to sharing expertise and knowledge around the use of technology to provide better services and create more environmentally friendly cities.
Bristol already has strong business links with Guangzhou through a 'sister-city' twinning arrangement while Shenzhen, which borders the New Territories and Hong Kong, is an established hi-tech centre regarded as China's 'silicon valley'. The Hong Kong Science & Technology Park is a major global centre for research.
The trade mission, which lasts from November 7-15, was launched at the recent Chinese New Year banquet held at Bristol's Zen Restaurant by Bristol China Partnership/West of England China Bureau, which is supporting it.
The number of firms on the mission is being restricted to 10 so that it can be a more tailored programme with a focus on commercial outcomes in the key sectors.
Bath Business News and its sister titles in Bristol and Swindon are official media partners for the mission. Bath Business News will carry regular updated articles on the mission and the participating businesses.
Firms interested in taking part in the Smart Cities mission can learn more at a briefing in Bristol this Friday at the Engine Shed, Temple Mead, starting at 12noon.
To book go to https://www.eventbrite.co.uk/e/engine-shed-briefing-smart-cities-china-trade-mission-launch-tickets-10616324713?ref=estw