The war in Ukraine and Covid restrictions in China have hit revenues at Bath-headquartered global advanced engineering group Rotork – although recovery in its core oil and gas markets has sent its order intake to a record high.
The mixed picture has emerged from a trading update for the first quarter of 2022 by the group, which manufactures flow control equipment for the global oil, gas, water and chemical industries.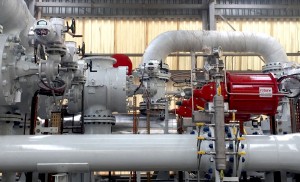 Rotork said its performance in the period had been broadly in line with its board's expectations, with new orders up by "high-single digits" above the first three months of last year. Its oil and gas division had the highest rate of order growth.
However, revenue was down mid-single digits year-on-year, reflecting continued supply chain problems, ending deliveries to Russia and reduced deliveries from its important Shanghai factory, which hit its water and power division hardest.
The factory, which is in a Covid lockdown area, operated at a significantly reduced output from for a month until mid-April and has since been closed since.
Rotork said it anticipated a partial re-opening in the coming days but there can be no certainty that this would happen or that the plant would remain open.

The firm, which is Bath's largest manufacturing company, also continued to be hit by higher material costs and disruption to its supply routes during the period and was now experiencing significant labour cost increases.
It said: "We are managing inflation through more frequent price increases and cost reductions and anticipate these actions will largely offset the headwinds."
The firm stopped deliveries to Russia at the start of March and is now suspending its sales and service operations in the country in an orderly manner, with a small number of employees kept onto manage the process.
The firm is also actively supporting humanitarian relief efforts for the Ukrainian people. The Russia, Ukraine and Belarus region, which is all serviced out of Russia, contributed around 3% to group sales last year, it said.
With a record order book, the group was now working hard to deliver on it, it said, in the face of increased geopolitical and macroeconomic uncertainty and continued supply chain disruption.
Rotork will publish its half-year results on 2 August.